Why did Blue Ridge Capital sell Realogy Holdings in 3Q 2013?
By Samantha Nielson

Jan. 22 2014, Published 12:00 p.m. ET
According to 13Gs Blue Ridge Capital filed last month, the hedge fund disclosed new positions in Zulily (ZU) and PBF Energy (PBF). The filings stated that Blue Ridge currently owns 6.05% in Zulily, with 799,811 shares, and a 7.82% stake in PBF, with 3,095,000 shares.
A November 13G filing showed that Blue Ridge increased its position in Avis Budget Group (CAR) and at present owns a 6.17% stake, with 6,613,700 shares.
For more information on Blue Ridge Capital and its investment strategy, please see the last part of this series.
Blue Ridge Capital's top new buys in 3Q 2013 per its 13F filing were American Homes 4 Rent (AMH), Tesla Motors Inc. (TSLA), Cliffs Natural Resources (CLF), and BlackBerry Ltd. (BBRY). The hedge fund exited its positions in Owens Corning (OC), Equinix Inc. (EQIX), and Realogy Holdings Corp. (RLGY).
Blue Ridge Capital's two largest stock holdings are Priceline.com Inc. (PCLN) and American International Group Inc. (AIG), which account for 4.88% and 4.52% of the hedge fund's portfolio, respectively.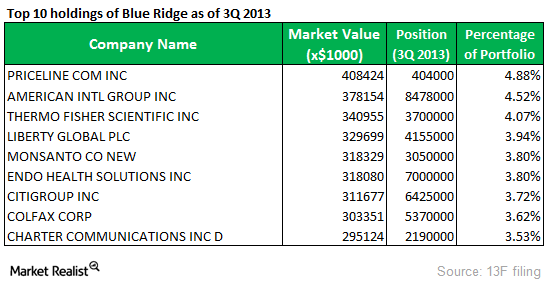 Why did Blue Ridge sell Realogy Holdings Corp. (RLGY)?
John Griffin's Blue Ridge Capital liquidated a 1.63% position in Realogy Holdings, a global leader in real estate franchising, in 3Q 2013. The position was initiated in 4Q 2012.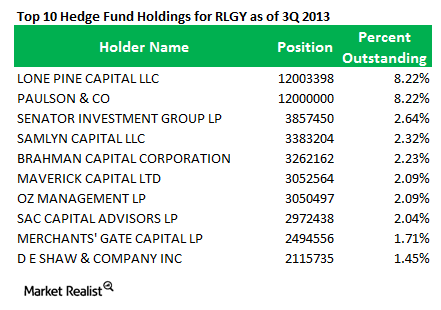 Article continues below advertisement
Realogy's net revenue for 3Q 2013 was $1.55 billion, a 21% increase compared to the same period in 2012. Adjusted net income for the third quarter was $150 million and EPS was $1.03 per share. The company saw a 29% increase in year-over-year homesale transaction volume, which exceeded the 26% sales volume increase reported by the National Association of Realtors.
In terms of lower royalty rates that were driving down margins, Realogy said the year-to-date rate is expected to remain flat for the full year. The Realogy Franchise Group's (RFG), the company's franchise segment, royalty rate should be viewed on a year-to-date basis due to fluctuations in full-year forecasted volume. The sequential decline in the royalty rate is due to the increase in estimated volume for the total year since the end of 2Q 2013, given the exceptional strength in home sale volume the company experienced in 3Q 2013.
While industry observers anticipated that the mortgage rate environment would slow the housing recovery, the company believes there was an acceleration. In Realogy's view, the strong volume increase was driven by a combination of pent-up demand, relatively low inventory, and a shift in homebuyer preference to purchase existing homes over new homes due to the ability to lock in mortgage rates for the shorter period it takes to close on an existing home purchase over a new home.
Realogy said that it's well positioned to capitalize on the anticipated multi-year growth of homesale transactions and average homesale price. With the ongoing sustainable recovery in the existing housing market, improved operating margins, and lower cash interest expense, it expects to continue to generate strong free cash flow and create value for its shareholders.
Realogy Holdings Corp. is a global leader in real estate franchising with company-owned real estate brokerage operations doing business under its franchise systems as well as relocation and title services. Realogy's brands and business units include Better Homes and Gardens Real Estate, CENTURY 21, Coldwell Banker, Coldwell Banker Commercial, The Corcoran Group, ERA, Sotheby's International Realty, NRT LLC, Cartus, and Title Resource Group. Collectively, Realogy's franchise system members operate approximately 13,600 offices with 244,000 independent sales associates doing business in 104 countries around the world. Realogy is headquartered in Madison, New Jersey.