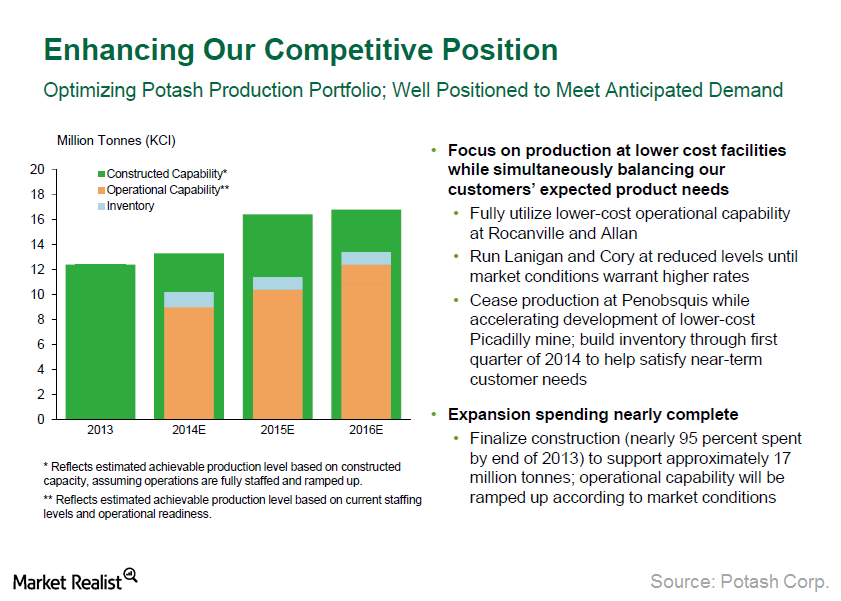 Why POT's large 570-laborer layoff will support the potash industry
By Xun Yao Chen

Oct. 29 2019, Updated 5:55 p.m. ET
Production and supply
The production of fertilizer producers like Potash Corp. (POT), Mosaic Co. (MOS), Agrium Inc. (AGU), and Intrepid Potash Inc. (IPI) affects industry supply. When production is falling, it often reflects reaction to weak demand. However, production cuts could also help prices from falling as much. If production cuts occur at a time when demand is expected to grow, then it can even translate to much higher fertilizer prices.
Potash announces 1,050 job cuts
On December 3, POT announced a significant reduction in its workforce of approximately 1,050 jobs out of its current 5,900 employees. About half of it, 570 employees, will go towards potash, while the remaining 475 will mostly go towards the phosphate business.
Focusing on lower-cost facilities
Article continues below advertisement
The company will further focus on the production of lower-cost facilities while balancing customers' expected product needs at the same time. In its presentation, the company said that it will "fully utilize lower-cost operational capability at Rocanville and Allan, run Lanigan and Cory at reduced levels until the market sees better days, and cease production at Penobsquis while accelerating development of lower-cost Picadilly mine; build inventory through first quarter of 2014 to help satisfy near-term customer needs."
The company also expects to finish its current construction throughout 2014 to support approximately 17 million tonnes of capacity. However, operational capacity will only ramp up based on market conditions.
Historical context
Although POT was able to reduce production significantly in 2012 from 2011, after commodity demand weakened worldwide, it hasn't been able to do much in 2013, because it kept much of its workforce. This likely contributed to a sharper decline in potash price (see the previous articles in this series).
Companies generally don't want to lay off people because employees are an important part of businesses. If people are laid off, it becomes difficult to hire them back again. POT's announcement to lay off workers likely reflects its inability to cut further production without more labor cuts. Since POT supplies about 15% to 18% of the world's potash demand, this layoff and production cut are large enough that it would affect industry supply. This in turn will positively benefit potash prices.