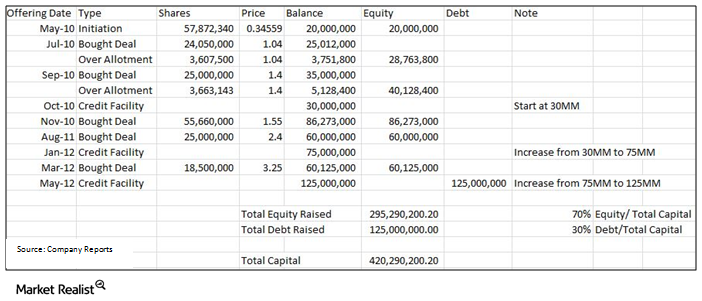 Why Pinecrest Energy is a potential sale candidate
By Samuel Madden, CFA

Nov. 20 2020, Updated 4:21 p.m. ET
Thesis overview
Pinecrest Energy (PRY, PNCGF) is a Toronto Venture Exchange–listed oil and gas exploration and production company focused on the Alberta, Canada, Slave Point region. In less than two years, an aggressive growth strategy led to Pinecrest becoming a dominant player, one of the largest land owners in the area, and a favorite among oil and gas investors, touted by insiders and analysts for the coveted region, management's previous proven abilities, and the oil potential Slave Point offered.
Article continues below advertisement
Over the past year, however, cracks in the thesis began to show, as numerous setbacks and a growing debt balance shed light on management's rosy projections and failed attempts to deliver results. A consistent pattern of over-promising and under-delivering, while avoiding or hiding problems, created a loss of confidence among investors and material shareholder declines ensued. Within the company's short history, management has effectively caused a Class IV hemorrhage through irresponsible use of leverage, poor guidance, and an aggressive capital spending program worth hundreds of millions. As a result, shareholder losses have been absolutely absurd; over 80% of equity value being destroyed within roughly one year of the company's three-year existence.
In situations such as this, one of three things can take course. First is a huge overhaul, with incompetent board members and management stripped of their duties, pegged to the wall of shame, and replaced. Second is a company sale. Third is bankruptcy.
In this report, we argue for a company sale because Pinecrest possesses valuable characteristics, yet given that the board and management have proven their inexcusable ineptness to responsibly run the business, and the fact that they have leveraged operations to a position where debt balance coupled with a low stock price offers grim opportunities for the company to lift itself out of current problems, a company sale seems to be the proper decision, providing any remaining value back to owners.
Article continues below advertisement
Since 2010, PRY has spent just under $500 million on land, development, and equipment and it now sells for a fraction of that value. Additionally, there is roughly 2,300 boed of 97% light oil in production that does not take into account any additional water flood potential. The company remains in a desirable location, with a land base difficult to replicate, and a number of companies competing throughout the region. With a strategic purchase, PRY could potentially fetch between 50% and 100% higher than current enterprise valuation.
The Market Realist Take
Pinecrest's stock is down almost 54% since the beginning of 2014. The company issued an update on January 14, stating that average production for the month of December, based on field estimates, was 2,308 boepd—below the company's budget and previous guidance. Current production is estimated to be 2,300 boepd (97% oil and liquids).
Analysts at Alta Corp Capital are of the view that with negative growth into 2014, a leverage position at 3.0x (D/CF), and asset economics that have disappointed the market expectations, investors are taking a wait-and-see approach—especially as it relates to the success of the eight waterflood projects that so far continue to miss expectations. The analysts said that investors are expecting further waterflood responses and what a buyer would ultimately buy the assets for (which is likely only for PDP, proved developed producing, reserves). Analysts expect some large reserve write-downs for year end. It is unlikely that there will be any bids before Pinecrest announces its reserve update. Although the company has an attractive valuation at 3.5x EV/DACF, continually under-performing well results and an even higher leverage position make any upside to the stock more at risk.
Article continues below advertisement
A number of companies operate in the Slave Point formation oil play in addition to Pine Crest, such as Penn West Petroleum (PWE), Lone Pine Resources, (LPRIQ), Baytex Energy Corp. (BTE), Surge Energy (ZPTAF), and Renegade Petroleum Ltd. (RPTTF). Penn West said its capital budget for 2014 in the Slave Point area is expected to be approximately $145 million (including EOR capital), with activities largely focused on low-risk drilling (17 net wells) to drive cost improvements, some work with longer laterals, water flood development, and a 3D seismic shoot to expand the company's play fairway. Peer Lone Pine acquired 99,840 acres of 100% working-interest land prospective for Slave Point light oil in the Hutch area of northern Alberta in 1Q 2012. Located approximately 125 kilometers northwest of the company's Evi asset, the Hutch property provides Lone Pine with a potential second light oil fairway. Lone Pine has a total Slave Point land base of over 180,000 gross acres, which provide a significant concentrated light oil footprint in Northern Alberta.
The Alberta Oil & Gas Industry quarterly update for winter 2013 stated that increased implementation of long horizontal wells and multistage fracturing in tight oil plays across the province—not to mention new provincial royalty incentives to encourage drilling—has left crude oil drilling activity and production on the upswing. Although natural gas activity has slowed due to weak prices, Alberta is poised to benefit once a price correction occurs. The tight oil revolution that began in the United States has gradually moved north into Alberta. The update said the number of new horizontal oil wells is projected to decrease from 2,379 in 2012 to 2,310 in 2013, and to decline gradually to 2,080 in 2022. The forecast number of horizontal oil wells has significantly increased relative to last year's forecast and reflects actual activity in 2012, the industry's projection of increased horizontal drilling, and anticipated continued strong crude oil prices. To learn more about drilling developments, see Why rig counts are one indicator of oil and gas drilling activity.