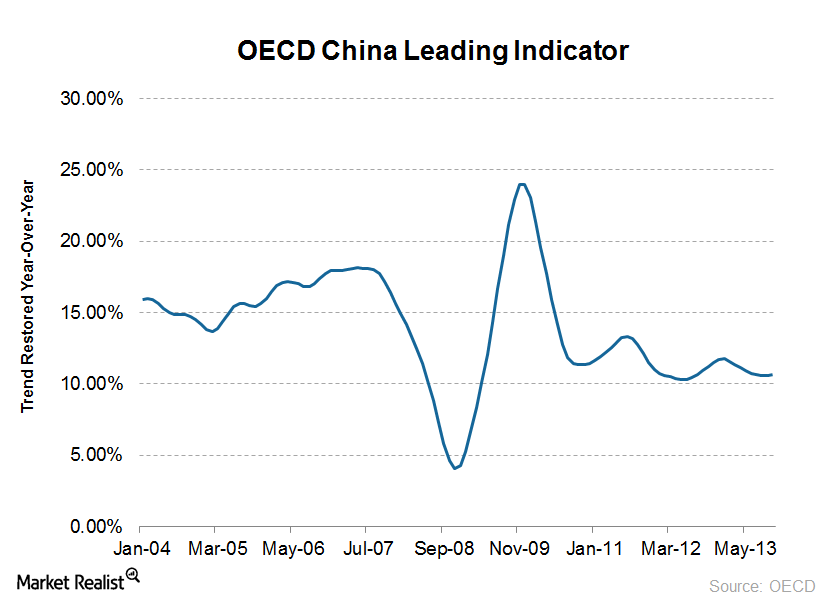 Why the OECD leading indicator drives dry bulk shipping cycles
OECD leading index
Another helpful indicator that investors should get to know, but which the media doesn't widely follow, is the OECD's (Organization of Economic Cooperation and Development) China leading index. Analysts, money managers, and policymakers use leading indicators to help them gauge economic outlook. Although each country—and some banks as well—does publish leading indicators, those closely studied and watched are published by the OECD. It has been called a think tank, monitory agency, rich man's club, and unacademic university, according to Investopedia.
The composition of China's leading indicator
Article continues below advertisement
Since each country's economy is driven by different drivers, the composition of a leading index varies from country to country. For China, the OECD lists the production of chemical fertilizers, monetary aggregate M2 (money supply), production of manufactured crude steel (tonnes), 5,000 industrial enterprises (overseas order level in percentage), building production, vehicle production, and the Shanghai Stock Exchange's turnover.
Debating its reliability and usefulness
Whether the leading indicator truly leads the economic cycle has been debated. On one side, the index is subject to China's reported figures, which we learned don't always give the full picture but which we understand might still follow economic cycles. Overall, the leading indicator has been pretty useful at predicting economic troughs as opposed to peaks, according to Bernard Baumohl—author of The Secret of Economic Indicators.
Article continues below advertisement
It's also important to know that the leading indicator isn't a measure of how strongly an economy is growing or contracting, and it's best used to assess tops and bottoms in economic cycles—something that has large implications for DryShips Inc. (DRYS), Navios Maritime Partners LP (NMM), Navios Maritime Holdings Inc. (NM), Knightsbridge Tanker Ltd.(VLCCF), Diana Shipping Inc. (DSX), Safe Bulkers Inc. (SB), Baltic Trading Ltd. (BALT), Star Bulk Carriers Corp. (SBLK), and the Guggenheim Shipping ETF (SEA).
The leading indicator remains up from its bottom
Because the month-to-month data can contain short-term statistical noise that doesn't reflect long-term fundamental changes, a six-month change or year-over-year change is often used. For the month of October 2013, China's leading indicator's year-over-year growth rose to 10.65% from 10.59% in September, continuing its uptrend since bottoming in August 2013. This is one positive indicator for dry bulk shippers.
Each month's publication relates to data for two months ago, and that's one drawback of the index. Nonetheless, it's reliable enough that it gives investors the confidence to make investments or get out when most people are drowning in emotions.
Market Realist will publish a follow-up series on cyclical and industry indicators soon.