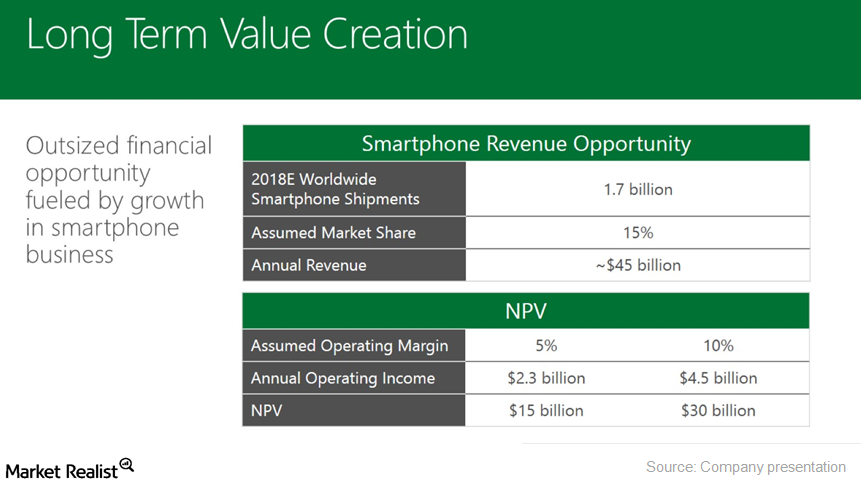 Will Microsoft's Nokia acquisition drive its mobile market share?
By Samantha Nielson

Oct. 29 2019, Updated 5:52 p.m. ET
Microsoft acquires Nokia
Microsoft said its $7.2 billion acquisition of Nokia was in line with the "next big phase of the transformation" the company announced in July. Microsoft announced in August that it will pay 3.79 billion euros (~$5 billion) for "substantially all" of the Nokia's Devices & Services business and 1.65 billion euros (~$2 billion) to license Nokia's patents at the close of the transaction. The transaction is expected to close in the first quarter of 2014.
Article continues below advertisement
Microsoft said the acquisition builds on the partnership with Nokia announced in February 2011 and aims to accelerate the growth of shares and profits in mobile devices through faster innovation, increased synergies, and unified branding and marketing. For Nokia, this transaction is expected to significantly boost earnings, strengthen its financial position, and provide a solid basis for future investment in its continuing businesses.
The deal saw mixed reactions and benefited Nokia's stock price, which went up, while Microsoft's stock fell 4.6%. Analysts believe Microsoft had no choice but to acquire Nokia for the Windows operating system to remain relevant in the mobile market via the Lumia-branded Windows Phone. There was also a threat of losing Nokia to an Android-first rival, as the smartphone maker has been seeing losses due to declining sales.
Article continues below advertisement
With the acquisition, Microsoft can concentrate on easily integrating its Windows Phone OS and other platforms into mobile devices in-house on the lines of Apple and Google and expand its mobile market share. The deal has been beneficial to Nokia because Nokia was able to unload an under-performing division and retain its hold over its patent portfolio, which generates around 500 million euros annually.
According to data on the U.S. market recently released by Kantar Worldpanel ComTech, Windows Phone (the third largest OS in the U.S), sold nearly 5% of smartphones in the three months ending November 2013—up 2.1 percentage points from the previous year. Android maintained its lead in smartphone sales in the U.S., capturing 50.3% of the smartphone market. iOS follows, with 43.1% of smartphone sales—an increase month-over- month, but down 9.9% versus the same period a year ago. IDC said last year that Microsoft's Windows Phone grew 156.0% year-over-year during 3Q 2013. Microsoft's efforts, with Nokia's support, helped drive the platform into multiple tiers and price points.
The other notable acquisition by Microsoft in the last few years was the company's takeover of the VoIP company Skype, which was purchased for $8.5 billion in 2011. In 2012, Microsoft acquired enterprise social networking tool Yammer for $1.2 billion. The enterprise social network now has over 8 million registered users, and about 85% of Fortune 500 companies use Yammer.
On January 7, 2014, Microsoft announced an agreement to acquire Parature, a leading provider of cloud-based customer engagement solutions. The acquisition allows Microsoft to expand its Dynamics CRM product. Parature had a revenue of $14.6 million in 2011, based on IDC data.