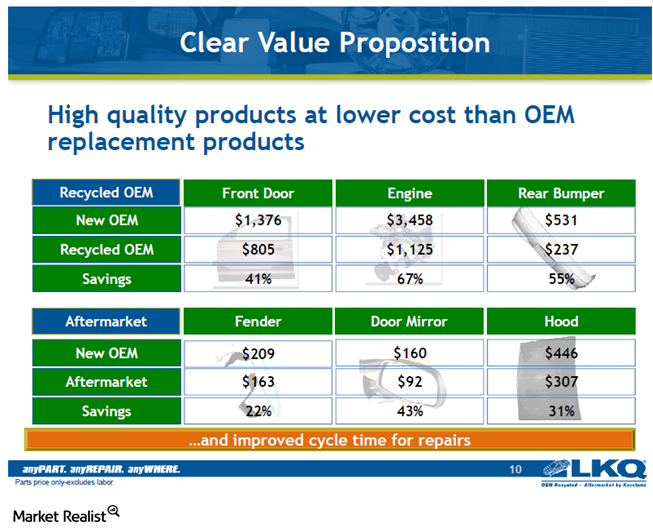 Why collision repair market share has remained in LKQ's favor
By Samuel Madden, CFA

Nov. 20 2020, Updated 11:58 a.m. ET
Market overview

LKQ operates in a global automotive repair industry. In the U.S. alone, the market opportunity is approximately $59 billion.
Decision makers in most automotive collision repair work are not individuals or mechanics. Insurance companies as payors are often making decisions and are always looking to maintain as low a price as possible for repair work, while body shops prefer higher-margin products. LKQ's relationships with insurance companies and its proprietary location-based database (provided to insurance companies for their use in directing body shops) creates a very powerful value proposition within the decision process of automotive repair.
Article continues below advertisement
As in many other industries, the trend in collision repair parts is away from more expensive OEM and towards more affordable aftermarket and recycled products (similar to many branded versus private label products across many industries). In collision repair, this dynamic has tremendous room for growth, with new OEM parts still maintaining 62% of the market, while recycled, aftermarket, and refurbished parts make up the remaining 38%. This market share has continued to move in LKQ's favor for the past decade.
In addition, the market share for insurance-directed repair work has grown to 52% of claims (up from 32% in 2003) as insurance companies continue to realize the value of directing claims towards more affordable yet good-quality ("LKQ" signifies "like, kind, and quality") parts.

The Market Realist Take
In August 2013, LKQ formed a joint venture with Australian insurer Suncorp Group to develop an alternative auto parts business in Australia and New Zealand. With over 12 million passenger vehicles on the road in Australia and low use of alternative parts in the market, LKQ believes the joint venture presents long-term opportunities for both companies.
According to the 2013 Digital Collision Repair Trends report released by the Automotive Aftermarket Industry Association (AAIA), collision repair-related sales by aftermarket repair shops grew 2.3% in 2012, to $39.7 billion. This growth was driven by several factors, such as an increased number of registered vehicles, increased road congestion causing a higher frequency of accidents per year, and increased collision repair cost per vehicle.
Article continues below advertisement
An article with Certified Collateral Corporation stated the collision repair industry has experienced a great deal of change over the last several years. The recession helped drive the already flat-to-declining vehicle accident frequency down further, and more customers were opting not to have minor damages repaired. And with the average age of vehicles on the road in the U.S. at an all-time high, more vehicles were damaged completely as opposed to being repairable. Longer-term, it's unlikely the industry will see a dramatic increase in repairs, and the claim frequency for collision and liability losses remains stable, with moderate increases quarter-on-quarter.
LKQ peer in the collision segment Copart (CPRT) reported a 17.2% increase in revenue for 1Q 2014, to $279.9 million. Of the $41 million revenue increase, $17.2 million was associated with the acquisition of Quad City Salvage Auctions (QCSA) that was announced in June 2013. In November last year, it acquired acquired Berpa Auto Auction, Inc., a privately held automotive auction located in Canada. Copart mainly focuses on the salvage vehicle auction market.
Another peer, KAR Auction Services (KAR)—which is the largest domestic providers of vehicle auction services), reported revenue of $533.7 million, an increase of 12% in 3Q 2013. KAR's wholesale used vehicle operation, ADESA or Insurance Auto Auctions and Automotive Finance Corporation (or AFC) business units posted gains.