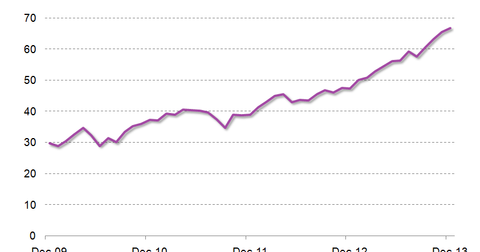 Must-know: Could these key threats affect Disney's profitability?
By Samantha Nielson

Jan. 13 2014, Published 12:00 p.m. ET
Risks
A diversified enterprise such as the Walt Disney Company could face a wide range of factors that could materially affect its future developments and performance. Apart from increased competitive pressures (discussed in detail in the previous section), some of the main threats include the following.
Changes in macroeconomic conditions
Since the company operates in the consumer discretionary sector, an increase in price levels generally or in a price level in a particular sector such as the energy sector could result in a shift in consumer demand away from the entertainment and consumer products Disney offers, which could also adversely affect its revenues and increase its costs.
Article continues below advertisement
Disney said in its recent 10-K filing that an earlier decline in economic conditions in the U.S. reduced spending at its parks and resorts, purchase of and prices for advertising on its broadcast and cable networks and owned stations, performance of its home entertainment releases, and purchases of its branded consumer products. Recent instability in European economies presented risks of similar impacts in its European operations. Economic conditions can also impair the ability of its business partners to satisfy their obligations to Disney.
Changes in exchange rates for foreign currencies may reduce international demand for its products, increase its labor or supply costs in non-U.S. markets, or reduce the U.S. dollar value of revenue it receives from other markets. Economic or political conditions in a country could reduce its ability to hedge exposure to currency fluctuations in the country or its ability to repatriate revenue from the country.
Adverse weather conditions or natural disasters, health concerns, international, political, or military developments, and technological developments
Article continues below advertisement
Demand for Disney's products and services, particularly its theme parks and resorts, highly depends on the general environment for travel and tourism. The environment for travel and tourism, as well as demand for other entertainment products, can be significantly adversely affected in the U.S., globally, or in specific regions, as a result of a variety of factors beyond its control. These include adverse weather conditions arising from short-term weather patterns or long-term change, catastrophic events, or natural disasters (such as excessive heat or rain, hurricanes, typhoons, floods, tsunamis, and earthquakes), health concerns, international, political, or military developments, and terrorist attacks. For example, the earthquake and tsunami in Japan in March 2011 resulted in a period of suspension of its operations and those of some of its licensees in Japan, including Tokyo Disney Resort. This resulted in a loss of revenue from those operations. These events and others, such as fluctuations in travel and energy costs and computer virus attacks, intrusions, or other widespread computing or telecommunications failures, may also damage its ability to provide products and services or to obtain insurance coverage with respect to these events.
Labor disputes
A significant number of employees in various Disney businesses are covered by collective bargaining agreements, including employees of its theme parks and resorts as well as writers, directors, actors, production personnel, and others employed in its media networks and studio operations. Plus, the employees of licensees who manufacture its consumer products and retailers who sell its consumer products, and employees of providers of programming content (such as sports leagues), may be covered by labor agreements with their employers. In general, a labor dispute involving Disney's employees or the employees of its licensees or retailers who sell its consumer products or providers of programming content may disrupt its operations and reduce its revenues, and a resolution of a dispute may increase the company's costs.
Intellectual property rights
Article continues below advertisement
The unauthorized use of intellectual property in the entertainment industry generally remains a significant challenge for intellectual property rights holders. Inadequate laws or weak enforcement mechanisms to protect intellectual property in one country can adversely affect the results of the company's operations worldwide, despite its efforts to protect its intellectual property rights. The unauthorized use of Disney's intellectual property rights may increase the cost of protecting these rights or reduce its revenues.
Pension and welfare benefits
With approximately 175,000 employees, Disney's profitability is substantially affected by costs of pension benefits and current and post-retirement medical benefits. It might see significant increases in these costs as a result of macro-economic factors, which are beyond its control, including increases in the cost of healthcare. These macroeconomic factors as well as a decline in the fair value of pension and post-retirement medical plan assets may put upward pressure on the cost of providing pension and post-retirement medical benefits and may increase future funding contributions.
Turmoil in the financial markets could increase its cost of borrowing and impede access to or increase the cost of financing its operations and investments
Article continues below advertisement
Past disruptions in the U.S. and global credit and equity markets made it difficult for many businesses to obtain financing on acceptable terms. These conditions tended to increase the cost of borrowing and if they recur, Disney's cost of borrowing could increase and it may be more difficult to obtain financing for its operations or investments.
The impact of foreign currency exchange rates
Disney has a foreign exchange risk management program that's intended to reduce earnings fluctuations associated with foreign currency exchange rate changes. As part of this program, it enters into foreign currency derivative contracts designed to hedge projected foreign currency–denominated operating income exposures for periods that generally don't exceed four years. Based on its current hedge portfolio and other potential currency impacts in fiscal 2014, it said it expects an adverse impact to growth in segment operating income in fiscal 2014 of approximately $200 million, driven by a decline in the Japanese yen since the beginning of fiscal 2013.
Other risks
Television and radio broadcasting are also subject to extensive regulation by the Federal Communications Commission (the FCC) under federal laws and regulations, including the Communications Act of 1934. The regulations relate to television and radio stations licensing, ownership limits, and regulation related to programming and retransmission consent. A violation can result in substantial monetary forfeitures, limited renewals of licenses and, in egregious cases, denial of license renewal or revocation of a license.
Changes in technology and consumer consumption patterns may affect demand for its entertainment products, the revenue it can generate from these products, or the cost of producing or distributing products.
Disney's results may be adversely affected if long-term programming or carriage contracts aren't renewed on sufficiently favorable terms.
The seasonality of some of its businesses could exacerbate negative impacts on its operations.
Protection of electronically stored data is costly, and if the data is compromised despite this protection, the company might incur additional costs, lost opportunities, and damage to its reputation.