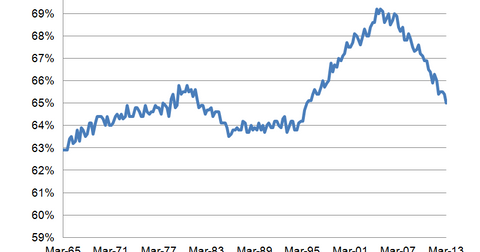 Why the key to the recovery is the first-time homebuyer
By Brent Nyitray, CFA, MBA

Jan. 7 2014, Published 12:00 p.m. ET
The first-time homebuyer has been dealt a lousy hand
The first-time homebuyer has had a number of big issues to contend with. The biggest one has been a lousy job market for recent college graduates. Finishing college with a degree, large amounts of student loan debt, and bleak job prospects, young adults have been forced to move back home with their parents or take on roommates in a several-bedroom apartment. This has shown up in the low household formation numbers we've seen since the housing bust.
Article continues below advertisement
Luckily for the first-time homebuyer, housing prices fell from the lofty levels experienced during the boom years and finally became affordable. Between low prices and low borrowing rates, the first-time homebuyer should have been set. However, it didn't work out that way. Lenders greatly tightened credit standards and many first-time homebuyers found themselves shut out of the mortgage market. Second, they found themselves competing with institutional investors who were snapping up foreclosures and short sales in order to rent them out. Even recently, cash sales (read: professional investor sales) have been between 40% and 50% of existing home sales, depending on whom you ask. Not only that, but most banks will not even entertain a short sale to someone who doesn't have a substantial down payment, given the long timelines and arduous process. You can see from the graph above how much the homeownership rate has fallen in the U.S.
Homebuilders have held off building inventory due to the low household formation numbers. Those low household formation numbers have been the only reason why we've had a semblance of balanced supply and demand in the the U.S. housing market. Those low household formation numbers are not due to fertility rates 30 years ago—they are due to a temporary economic downturn, and they represent pent-up demand. With the builders priced at 1.1 million starts a year, it's time to ask, "What if housing starts go back to their normal 1.5 million pace or even top 2 million?" If you believe those forecasts are too low, then you should look at the builders like Lennar (LEN), KB Home (KBH), PulteGroup (PHM), Standard Pacific (SPF), and Toll Brothers (TOL).