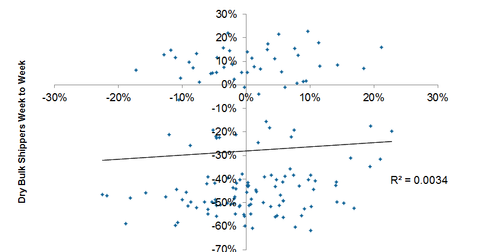 The illusory connection of the Baltic Dry Index and stock prices
By Xun Yao Chen

Updated
Two sides of the story
Recent movements between the BDI (Baltic Dry Index) and dry bulk shippers have some investors suggesting the BDI highly correlates with stock prices. After all, there was a correlation in late summer of 2013, so this should happen again, right? Other investors, however, say that if seasonality is a "known" thing, the market won't budge. So who's right?
Benchmark rate
To uncover the answer to that question, we've averaged all major publicly traded dry bulk shipping companies with mainly dry bulk operations and excluded companies with large long-term time charter exposures, like Navios Maritime Partners LP (NMM). For this purpose, we used Diana Shipping Inc. (DSX), Safe Bulkers Inc. (SB), Star Bulk Carriers Corp. (SBLK), Paragon Shipping Inc. (PRGN), and Navios Maritime Holdings Inc. (NM).
The same overall shape
Article continues below advertisement
Pitting the performance of the benchmark to the BDI over the last four and a half years (the farthest we can go back and still analyze the year-over-year performance), we can see that the BDI and the benchmark have moved in the same direction. We found a pretty high correlation of 0.82 between the indicators, which suggests there's a pretty strong linear relationship between the position of the Baltic Dry Index and the benchmarks. We understand that companies' fleet sizes have greatly expanded over the past few years, which is a major reason why the benchmark has returned to 2009–2010 highs while the Baltic Dry Index floats around the levels seen in 2011.
Divergences
Whether the average dry bulk shipper is driven by the BDI is a separate question, however. The large divergence from mid-2010 to mid-2011 reflects unusually lower shipments in the second half of 2010 as commodity prices soared. While the BDI rolled over earlier in 2010, dry bulk shippers only rolled over when the global economy peaked. The surge shown in late 2012 was driven by increased supply.
The BDI does not drive stocks
Apart from those periods, though, there isn't a clear relationship that movements in the BDI drive dry bulk shipping companies. To determine whether the BDI does affect shipping companies, we use the week-to-week changes in the BDI and the week-to-week changes in the benchmark to plot a scatterplot (show above). Even after excluding periods from June 2010 to the end of 2012, when the two indexes diverged, there's no clear relationship.
So we can conclude that the recent mirrored movements between the BDI and benchmark are an illusion.
So what has been driving these stocks recently? We'll uncover the answer in the next part of this series.