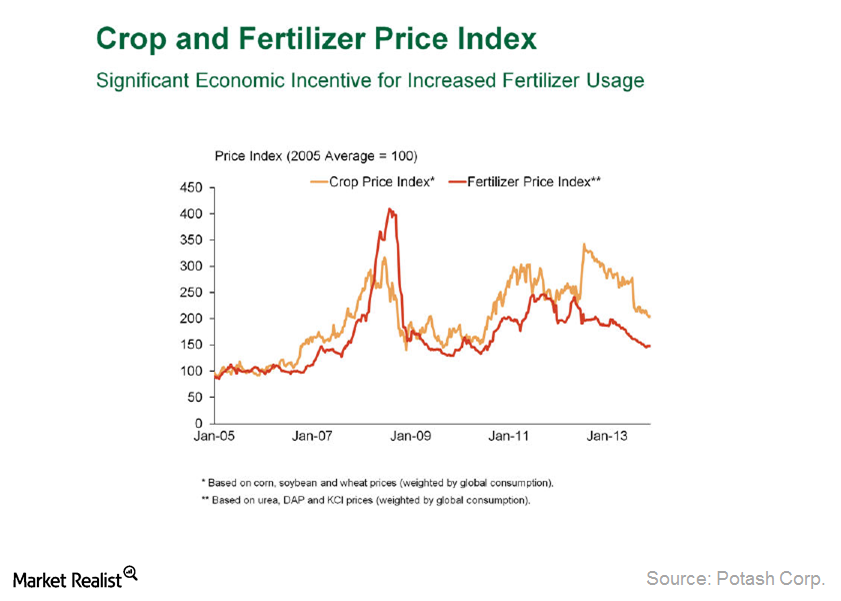 Why is the fertilizer affordability index an archaic indicator?
By Xun Yao Chen

Oct. 29 2019, Updated 5:46 p.m. ET
Relative affordability
Aside from crop prices, relative affordability is often something management mentions in earnings calls, presentations, and investor days. The chart below shows the relative price between crops and fertilizers. Fertilizers remain affordable compared to current crop prices from a historical perspective. While crop prices haven't reached the lows of 2009 and 2010, fertilizers have.
Affordable fertilizers
Article continues below advertisement
The relative affordability of fertilizer could result in above-normal purchases—a positive for fertilizer producers from a long-term perspective. But investors should note that the affordability indicator is slightly archaic in nature. On one side, it reflects farmers' purchase prospects, which would impact fertilizer shipments and prices.
However, the affordability indicator depends on fertilizer and crop prices in the first place. For example, when the affordability indicator rises, it could be due to higher growth in crop to fertilizer prices, higher crop and lower fertilizer prices, or a steeper fall in fertilizers compared to crop prices.
Confusing index
In this way, the affordability index affects fertilizer demand and prices, but it also reflects the current crop and fertilizer price balance. This can get quite confusing, so we don't recommend investors dwell on it for too long.
Historical case
When crop prices were rising throughout 2007 and up to early 2008, fertilizer prices climbed along. This had a positive impact on the share prices of companies like Potash Corp. (POT), Mosaic Co. (MOS), and Intrepid Potash Inc. (IPI). The VanEck Vectors Agribusiness ETF (MOO) also benefited. But when crop prices rose in 2012, they didn't help these shares much as fertilizer prices continued to fall.
This divergence reflects other forces at work. These include lower-than-usual demand due to India's weaker rupee and unfavorable subsidies, as well as a more competitive environment due to increased supply. So where are they heading now?