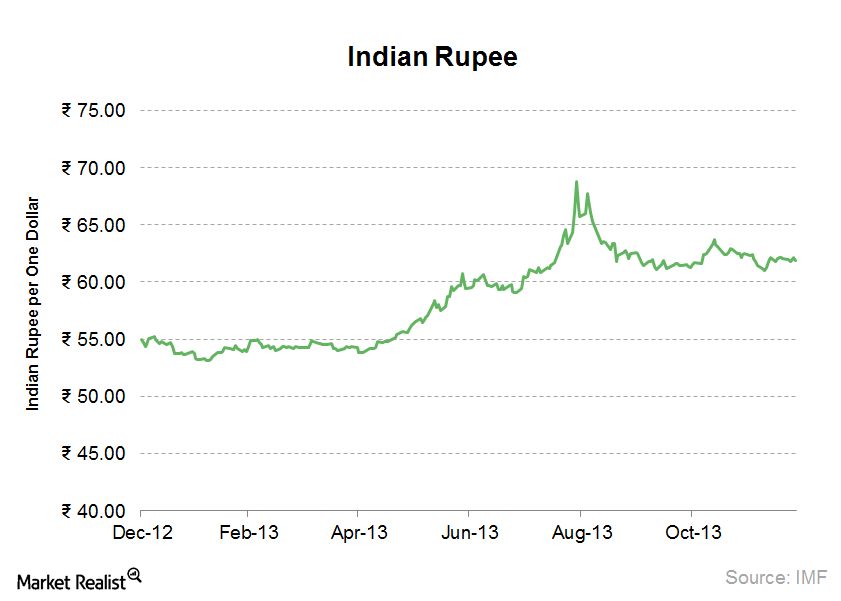 The Fed taper and Indian rupee could still hurt potash companies
Currency impact
As our potash industry overview guide noted, the potash industry is globalized—pretty much the same as any kind of commodity. Outside of the United States, the two largest consumers of potash are China and India. India has to purchase most (if not all) of its potash through imports. This means currency fluctuations are a major driver of fertilizer affordability, which could in turn negatively affect demand and prices.
Indian rupee
Article continues below advertisement
The Indian rupee has been under pressure this year due to two key factors: Ben Bernanke's announcement of the Fed tapering that started off in June and deteriorating economic growth combined with high inflation. Scaling back quantitative easing translates to lower expected supply growth of the U.S. dollar in the future. This is positive for the U.S. dollar but negative for the rupee.
Parabolic depreciation
India, which was already negatively affected by high inflation and deteriorating economic growth—with nearby countries like China slowing down, only made the Indian rupee weaker as investors cashed out. This parabolic move was stopped when the central bank moved in to buy the Indian rupee and sell the U.S. dollar, which was later followed by more upbeat economic data in China.
The Fed begins tapering
The Fed had officially announced the start of tapering a few days ago, but the market rallied on the news, as the uncertainty went away about it keeping the interest rate near zero. The program could also reverse if the Fed sees the economy weaken.
The risk of another round of the falling rupee
Just a few days later, the ten-year U.S. T-Note interest rate rose above 3.0%. If it continues to rise, it could put another round of pressure on the Indian rupee, since investing in U.S. T-Notes could become more attractive than alternatives. This case would be negative on the rupee and positive on the dollar, which would make fertilizers like potash and phosphate even more expensive for buyers.