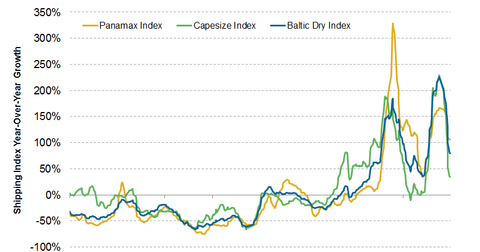 Why dry bulk shipping stocks fell more than seasonality suggests
By Xun Yao Chen

Updated
Is seasonality driving shares?
In a sense, the recent declines in dry bulk shippers has been attributed to seasonality. But we learned that year-over-year growth drives dry bulk shippers (see the previous article in this series). If year-over-year changes are used to make some adjustments to seasonality, why did year-over-year growth fall? To understand this, investors must first understand the dynamics of dry bulk shipping rates.
Base level of the BDI
Article continues below advertisement
The rates that companies charge depend on supply and demand. Of course, shipping companies aren't willing to rent their ships out if they aren't making money. The base we saw towards the end of 2012 and much of 2013 in the BDI (Baltic Dry Index) reflects the price level that suggests a substantial number of shipping companies were just breaking even in profits. Since the industry was filled with excess capacity, almost all of the suppliers were lower-cost operators. The BDI started to rise since the first half of 2013, and this was a sign that fleet utilization was improving.
Add inelastic supply
Because vessel supply is inelastic, rates can shoot up given a small change in demand. This is shown as the sharp rise in the year-over-year change in the BDI in late 2013. But inelastic supply also means that if demand falls, rates will come crashing down. This wouldn't have a great effect on year-over-year growth if the BDI also crashed by a similar amount last year. However, since the beginning of 2013 was more or less the "low" that the majority of suppliers could supply at, the BDI couldn't crash much more in early 2013. So as shipping rates crashed recently, they didn't have the same degree of decline in early 2013 to rely on. As a result, year-over-year growth also fell.
More illusions
Article continues below advertisement
We've read some posts on Zero Hedge and Seeking Alpha that suggest this has been the worst crash throughout the holidays for the BDI—so much for the recent run-up in iron ore imports. While the iron ore inventory story may now be gone, we'd like to point out that throughout the history of the BDI, there has been no evidence that the performance of the BDI during the first few quarters translates to how dry bulk shippers would perform throughout the year.
What investors need to understand is how the fundamentals for the BDI are shaping up and key indicators like those shown on MarketRealist.com 
Following the recent sell-off, several Wall Street analysts have recommended taking this fall as an opportunity to get into dry bulk shippers like Diana Shipping Inc. (DSX). Other dry bulk shippers that have recently fallen include DryShips Inc. (DRYS), Safe Bulkers Inc. (SB), Star Bulk Carriers Corp. (SBLK), Knightsbridge Tankers Ltd. (VLCCF), Navios Maritime Holdings Inc. (NM), and Navios Maritime Partners LP (NMM).