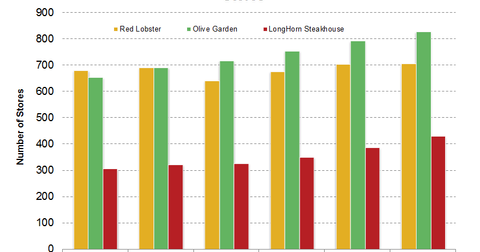 Why Darden core brands may not bring in more $100,000 customers
By Xun Yao Chen

Updated
Darden to remove Red Lobster
Darden Restaurant Inc.'s (DRI) decision to remove Red Lobster from its portfolio involves the brand's need for a sharper focus. As the management noted in its earnings call, "It's increasingly clear to us that Red Lobster's operating priorities are different in some very important ways from those of the rest of Darden, and these differences stem from the fact that the appropriate guest targets… are increasingly divergent."
Maintain and grow
Article continues below advertisement
Darden has focused on two things: maintaining relevance to guests that fit its core profile and increasing it for key consumer strength outside its core. The company gave financially secure and younger consumers as two main examples of consumer strength. To achieve its goal, the company says that the brands will benefit from shared marketing plus culinary, digital, and other resources to a large extent, which we remain skeptical about.
Ringing in $100,000+ customers
With the exception of Red Lobster, the company noted that it has been successful at increasing relevance to these more financially secure and younger consumers. At Olive Garden, there were 11% more visits last year form household incomes over $100,000 compared to five years earlier in fiscal 2008. For the same period, visits to LongHorn Steakhouse from those guests have increased by more than 50%. In contrast, the same demographic heading into Red Lobster has been flat in 2013. Management notes similar results for other efforts to broaden guest base.
Diverging requirement
Because of these differences, management believes that Red Lobster has significantly different sales and earnings growth prospects, different sales and earnings volatility, capital requirements, and separate and distinct opportunities to drive long-term shareholder value.
Our cautious take
We do believe spinning off Red Lobster is one the best things the management is doing, as we discussed in our more in-depth analysis of Darden. However, we're going to hold a slightly cautious view on the data that management had provided because it may be referring to the total customer visits, which then won't be adjusted for the number of stores. From fiscal year 2008 to 2013, Red Lobster's company-owned stores have grown 3.68%, Olive Garden at 26.80%, and LongHorn Steakhouse at 40.9%. So it seems like Red Lobster and Olive Garden haven't been quite successful at attracting consumers with household income of about $100,000, as opposed to at LongHorn Steakhouse.
Why management didn't spin off Olive Garden
Olive Garden may need to spin off too. But if Olive Garden were to also spin off, Darden would become much smaller—and that is something management may be unwilling to do since it could negatively affect compensation. This is understandable.