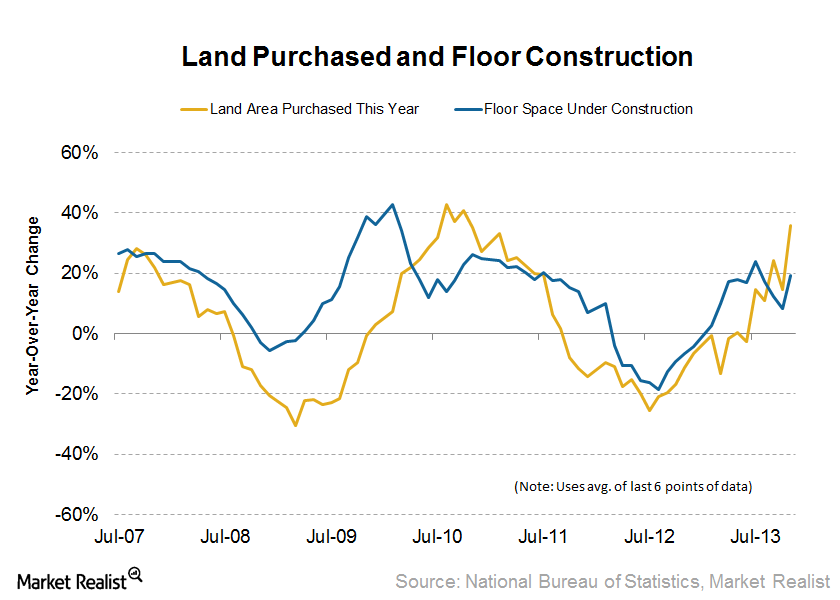 Chinese investing in cars and real estate drives dry bulk demand
By Xun Yao Chen

Dec. 4 2020, Updated 10:52 a.m. ET
Developers raising supply activity
Although year-over-year growth in real estate sales is falling, supply-side activity is encouraging. Data from the National Bureau of Statistics shows that developers' purchases of land area rose from 14.5% in October to 35.8% in November. Floor space under construction also remains a positive area, at around 19.3% in November, up from 8.4% in October.
What to look out for
Article continues below advertisement
As we saw in the previous article in this series, it's often demand that drives supply rather than supply that drives demand. Higher activity in land purchases and construction activity more or less reflects developers' expectation of being able to build a property and to sell it for a profit. As long as developers continue to snatch up land, more iron ore and coal will be needed at steel mills, which is generally positive for dry bulk shippers. We aren't expecting year-over-year growth to rise much higher, since the last few months of data were compared against a relatively weak period of land purchases in 2012, and year-over-year figures never really stayed at 30% since 2007. But unless developers run away from new land purchases, the trend remains favorable for the dry bulk trade.
People aren't running for shelter
Aside from real estate, cars are one of the largest purchases a person can make. This means car sales tend to go up when people have more money in their pockets (when the economy is growing). They also tend to fall when economic growth slows and the outlook dims. Year-over-year growth in car sales over a six-month period rose to 14.42% in November 2013, up from 13.65% in October, based on China Automotive Information Net. With automobile sales hitting a record 2.04 million units a month, we aren't seeing signs that people are shoring up on cash in preparation of slower economy.
In 2014, though, vehicle sales in China will face headwinds as pollution concerns and traffic jams prompt cities to cap the number of new autos to meet the central government's targets for reductions in air pollutants. China's main car association forecasts growth of 10% in 2014. Will figures really drop to that level, or even go lower? We'll just have to keep an eye on this monthly data. As William Golding writes in Lord of the Flies, "The greatest ideas are the simplest."