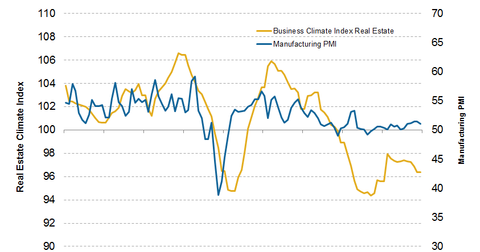 China's real estate climate diverges from purchasing managers' view
By Xun Yao Chen

Updated
Steel consumption breakdown
Since properties make up 42% of China's steel consumption, as estimated by Morgan Stanley, knowing how China's real estate market is performing is key to demand for steel, iron ore, and dry bulk shipments. The National Bureau of Statistics also publishes something similar to the manufacturing PMI for the country's real estate sector: the China Real Estate Climate Index.
Real estate climate index falls
Article continues below advertisement
China's Real Estate Climate Index fell to 96.38 in November from 96.88 in October. The overall index was developed to capture trends and conditions in the property market based on land, capital, and sales. Levels above 100 reflect prosperity, while those below 100 mark depression. Since 2002, the index has averaged around 102.
Pitting against the manufacturing PMI
Movements in China's real estate climate have in the past closely mirrored the country's economic growth, housing market, and demand for iron ore. However, the real estate climate index lagged the manufacturing PMI in 2008. Throughout the end of 2011 and early 2012, we saw another divergence. While the PMI rebounded, the real estate climate index continued to slide.
Takeaway
Those who got into dry bulk shipping in early 2012, seeing that dry bulk shipping companies broke out and had held on throughout the decline, would have been sorry. If they knew the real estate climate index existed, they would have been mentally prepared. If China did recover back then, shares might have tread sideways while new orders continued to flood the industry. Shipping rates depend on the supply of ships and dry bulk shipments. But economic sentiment and conditions can have a powerful impact on shipping rates. The economy is driven by many forces, so you mustn't rely on just one indicator.
With the real estate climate index falling, could things go badly for dry bulk shippers? Maybe, maybe not. Let's look at another indicator in the next article in this series: property sales and investments.
Drybulk shippers include DryShips Inc. (DRYS), Safe Bulkers Inc. (SB), Star Bulk Carriers Corp. (SBLK), Navios Maritime Holdings Inc. (NM), Knightsbridge Tanker Ltd. (VLCCF), Navios Maritime Partners LP (NMM), and Diana Shipping Inc. (DSX).