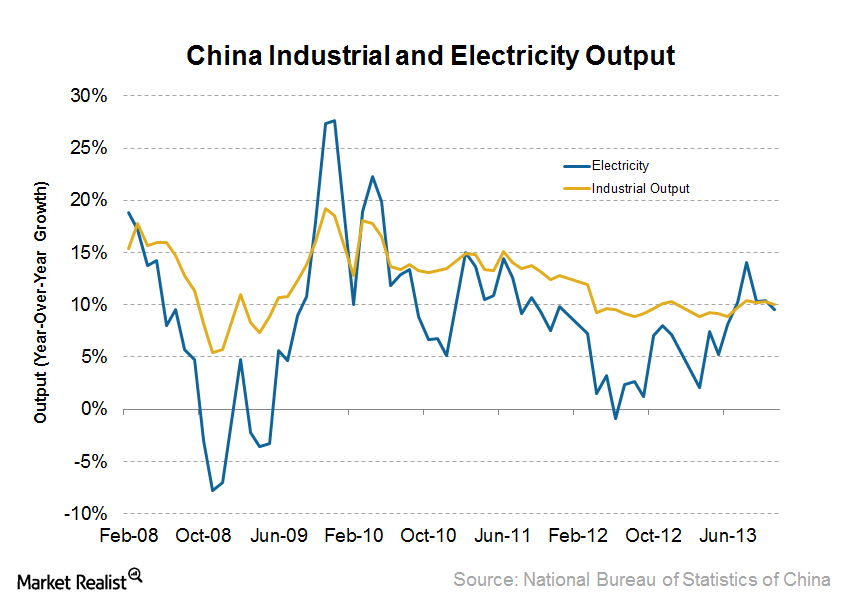 China's key economic conditions: Industrial and electricity output
By Xun Yao Chen

Dec. 4 2020, Updated 10:52 a.m. ET
Industrial and electricity output
The national bureau of statistics publishes a range of hard data. Because China's economy is so dependent on its industrial and construction activity (which are key end-users of iron ore and coal), it affects the Guggenheim Shipping ETF (SEA) and other dry bulk shippers. But because reporting entities sometimes like to dress their numbers up a bit to look nice, analysts also look at electricity output—where government officials say they don't have much incentive to cook the numbers.
November falls from October
Article continues below advertisement
For the month of November, China's industrial output grew at a year-over-year rate of 10.0%, falling from the 10.3% reported for October. Electricity output grew 9.51% in November, compared to the same month in 2012. This was also lower than October's figure, when electricity output grew 10.45% year-to-year.
What the government has done
Industrial output stabilized and electricity output bounced in mid-2012 as the government announced stimulus. Looser monetary policy plus more affordable and available loans also helped. But the market and managers worried that growth would slow and maybe fall below the government's target of 7.5% in 2013, as the previous government warned before it moved against rising property prices in early 2013, and the new government said it would tolerate slower growth for reform and more sustainable long-term growth. But when the economy slowed, the government acknowledged the need for short-term growth to support long-term growth, accelerating payments for public projects along with tax breaks for smaller enterprises.
Implications for China's future
The government has hinted that growth will slow, and that's a negative for dry bulk shippers. But just how fast and how far it would fall is anyone's guess. If there's one thing we know from the past, it's that the party won't let its economy fall apart when it can help it. It also won't do anything hasty. The one party-led government in China will only see widespread unrest if growth slows fast. It's not the rich the government is afraid of. It's the poor.
In the next few articles in this series, we'll take a deeper look at China's real estate activity and car sales.