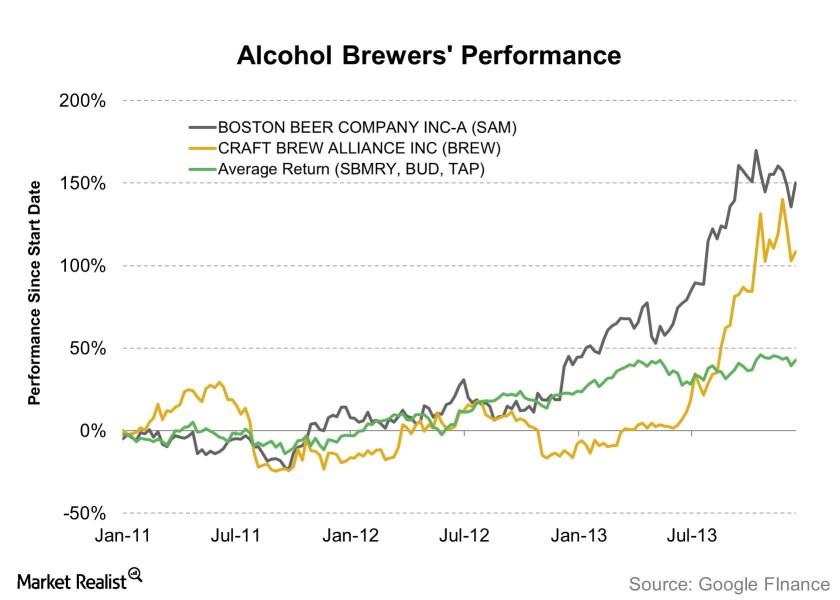 Why Boston Beer Company's diverse board drives its innovation
By Xun Yao Chen

Jan. 5 2014, Updated 10:41 p.m. ET
The importance of the board
The composition of a company's board is often overlooked, but people and talent are two important factors that drive value, particularly among differentiated businesses.
Current and past CEOs
Taking a quick look at the main executives, the current CEO and President of Boston Beer is Martin F. Roper. Before that, he was the Chief Operating Officer from 1997, and VP of Manufacturing and Business Development from 1994. The current chairman Koch founded Boston Beer in 1984. He has been a director since 1995 and had served as CEO until 2001. Before that, he had worked as a consultant at an international firm, focusing on manufacturing.
Diverse but focused
Adding some spice to the board, Burwick has been a director with the company since 2005. His background includes being the president of North America at Weight Watchers International and chief marketing officer for Pepsi North America.
Cummin had been a private investor for many years.
Fisher is the founder of WaterRev and mainly serves as independent investor and consult to companies in the life sciences.
Margolis is a CEO at Cache and had previously served as director at Godiva Chocolatier and as president and CEO of Limited Brands' Apparel Group.
Finally, Tanner is currently the CEO at Dean Foods with experience as chief supply chain and senior vice president of Global Operations.
Supporting growth
Article continues below advertisement
The well-balanced diversity that we see in Boston Beer's board composition is likely one of the company's success drivers. We see a noticeable pattern in the board's collective experiences, which includes manufacturing, business development, company foundation, supply chain management, consultants, and marketing. We believe these directors will help fuel Boston Beer Company's growth in the "better beer" segment over the next few years as an innovative brewer.