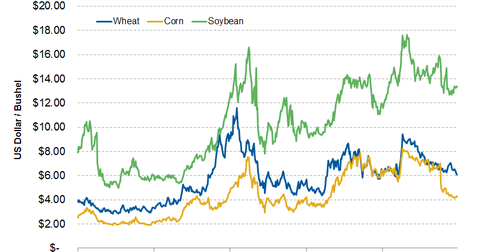 3 key points that show that corn prices have already bottomed
By Xun Yao Chen

Updated
Crop and agriculture economics
The fertilizer business is driven by supply and demand. When demand for fertilizers is on the rise, share prices will often rise. But when demand for fertilizers is falling, it can negatively affect share prices. Demand is largely driven by crop economics. When people think of crop economics, the first thing that comes to mind is crop prices.
Crop prices
Crop prices have fallen quite substantially this year as record planted acreage and good growing conditions have resulted in record crop outputs. Since the USDA "maintained" its estimate for a record production year in summer 2013, crop prices have been sliding. While a late summer heat lasted into the fall, it nonetheless helped crops grow. Droughts were minor and more localized compared to the national drought we saw in 2012 that sent crop prices soaring.
Why corn prices have fallen
Farmers continue to estimate where corn prices would be in 2014. At the moment, corn prices stand at around $4.25 per bushel. Should corn prices fall, the fertilizer affordability story would be gone. But there are several reasons why corn price has likely hit a bottom.
Article continues below advertisement
Compared to other crops like soybean and wheat, corn is now sitting near its long-term trend-line. This means farmers globally are expected to plant more wheat or soybean next year because these two crops have become "relatively" more economical compared to the past.
The divergence we're seeing in fertilizer prices is making soybean plantations cheaper. Unlike corn, soybean doesn't require nitrogenous fertilizers because its biological structure allows it to collect nitrogen from the air. On a relative basis, soybean-to-corn profitability should now be better for soybean compared to a few years ago.
Years with record production usually don't repeat as farmers adjust to prices. CF Industries Holdings Inc. (CF) currently sees that farmers will plant a significantly lower acreage as an adjustment to prices, which would keep fertilizer demand low. Plus, 2013 was quite a warm summer, with an adequate amount of rain for the most part of the world. The probability that the same situation will occur next year is fairly low, just like there was a low probability that 2013's production would again be negatively affected by a drought like in 2012.