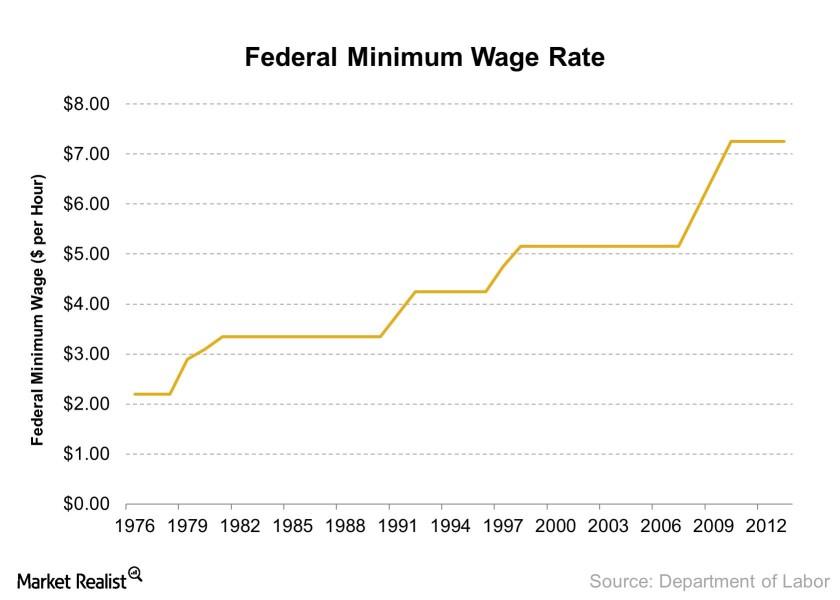 Walkouts and strikes are gaining momentum beyond McDonald's (MCD)
By Xun Yao Chen

Dec. 10 2013, Updated 8:14 p.m. ET
Another strike
Fast food workers striked again on December 5, 2013—or maybe we should call the actions just "demonstrations." The last time they went on strike was the end of August, and McDonald's (MCD) was widely targeted. This time, the strike was larger, drawing employees at retailers like Walgreens (WAG), Sears (SHLD), and Macy's (M).
Nationwide walkouts appear to be gaining momentum, calling for action to increase the federal minimum wage that has remained stagnant since 2009 despite higher inflation. In November, workers at Walmart (WMT) also faced strikes, walkouts, and protests for higher wages.
Federal minimum wage
Article continues below advertisement
The federal minimum wage, which is what many fast food and retail outlets pay employees, is now set at $7.25 an hour. This is equivalent to $15,000 a year for a full-time worker who works ~7.5 hours a day and 270 days a year. This is roughly $8,000 less than the Census Bureau's poverty income threshold level of $23,000 for a family of four, and it hasn't changed since 2009 due to a weak labor market. While some states have higher minimum wages—like Illinois, with $8.25—protestors still say it's too low.
White house offers a proposition, but no progress
In Wednesday's speech, Obama called for an increase in minimum wage, backing the Senate's proposal to increase it to $10.10 over a few years. This isn't the first time the president had called for higher wages, though. In his State of the Union address in February this year, he called for wage increases. The Republicans, however, oppose these initiatives, and most of the talks died down due to topics like Syria and the latest government shutdown.
An uphill battle
As many other articles have mentioned, it's going to be an uphill battle. Businesses with a large portion of their costs coming from labor, including consumer staple stores, can't cope with the increases of up to $15 that were called for in late summer (more on this later). With retail workers joining the demonstrations, this series of strikes appears to be gaining voice. But will that voice translate into real action? It doesn't seem so.
This article is an add-on to previous work starting from Fast food companies pay near minimum wage, yet high wage expense. It will also show up later in this series.