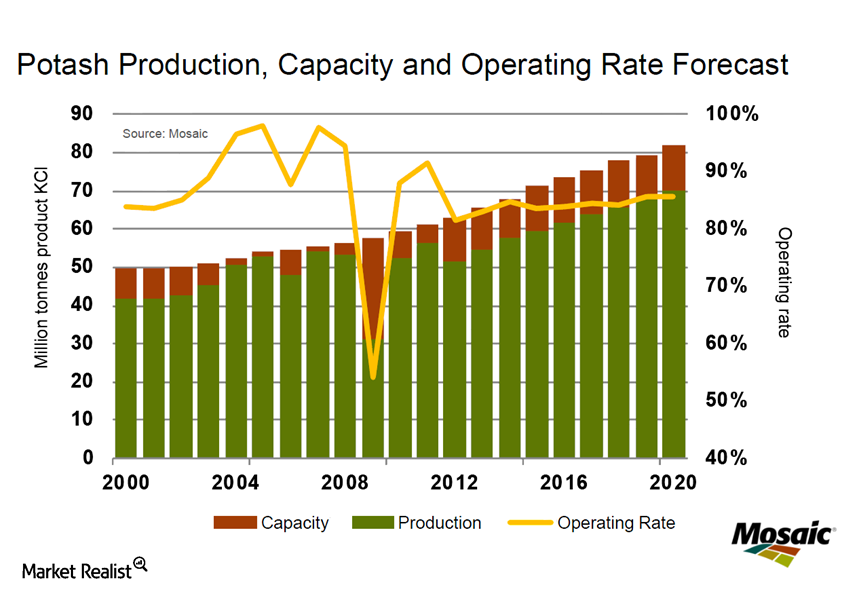 Was Uralkali's new business strategy really Canpotex's fault?
By Xun Yao Chen

Dec. 4 2020, Updated 10:53 a.m. ET
Uralkali stepping up its game
Uralkali's new strategy of mixing price and volume to maximize its revenue doesn't mean it will go all out to sell its inventory. It also doesn't mean the oligopoly is gone forever, either. But it does mean that Uralkali will be stepping up its game so that it maintains its own market share, which puts downward pressure on price amid increasing supply.

Competitive pressure
Up to now, we've been saying Canpotex was being naughty. To an extent, maybe it was. So Uralkali's latest move might be considered a punishment. But also note that outside forces can also create a more competitive environment, causing product prices to decline.
The chart above shows the operating rate of the potash industry, provided by Mosaic Co. (MOS). Investors might be surprised, but 2012's operating rate was lower than 2010's and the highs during 2004 to 2008.
Operating rate
Article continues below advertisement
Operating rate depends on changes in demand and capacity—if we assume production is equal to demand. So a low operating rate is considered negative, whereas a high operating rate is generally considered positive. Over the past two years, demand from India and China has fallen amid increases in capacity that were to support high demand growth from 2005 to 2011 overall.
Potash price
Considering that the current operating rate is lower than 2010's, it's not that surprising that potash prices are now around 2010 lows, with potash prices at the Corn Belt near $400 per metric tonne on November 29, according to Green Markets.
Understand that this price factors in the transportation cost needed to bring potash from Canada to the Corn Belt, so it's higher than the prices quoted in the quarterly and annual results of companies like Potash Corp. (POT), Agrium Inc. (AGU), and Intrepid Potash Inc. (IPI).