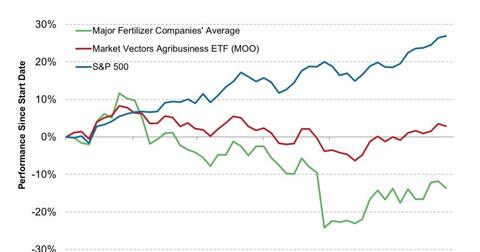 Why Uralkali caught and punished the wayward Canpotex
By Xun Yao Chen

Dec. 3 2013, Published 3:48 p.m. ET
A recovery that didn't happen
This was quite a drama-filled year for the potash industry. These producers manufacture potash fertilizers, which farmers apply to support plant development. While most analysts were looking for demand in India (a critical customer) to return and prices to stabilize, this didn't happen.

Game-changer or no?
Since summer, the breakup between Belaruskali and Uralkali's partnership—BCP (Belarusian Potash Company), which sold their potash for the export market—further created uncertainties regarding the industry's future outlook. Some say this will be a game-changer, while others say not. We have a different take.
Partnership isn't a big issue
The recent extradition of Uralkali's chief executive back to Russia, who was originally put into jail for throwing a curve ball at Belaruskali, raises hopes that a partnership could reform. But again, we think this isn't the main problem.
Article continues below advertisement
When news hit that Uralkali was going to leave the partnership in mid-summer, most readers probably thought this was another Russia and Eastern Europe drama. Indeed, it seemed like Belaruskali was secretly exporting potash to other countries on its own, cutting BCP (the partnership) and Uralkali out.
Naughty Canpotex gets caught
While Belaruskali's dark activities might have tipped top managers at Uralkali to push the "exit partnership" button, problems were already starting to boil over within the potash industry, and Uralkali meted out its punishment through the breakup.
Canpotex is the global potash selling arm owned by Agrium Inc. (AGU), Potash Corp. (POT), and Mosaic Co. (MOS).