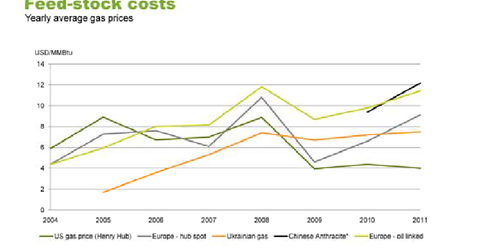 Why Ukraine and China became the next marginal cost urea producers
By Xun Yao Chen

Updated
Switch in marginal cost producer
Starting in 2009, a shale boom took place in the United States, keeping natural gas price low at $4.00, while oil prices and coal prices reached for 2008 peaks. From 2009 to much of 2010, Ukraine and China became the primary marginal cost producer of nitrogenous fertilizer.
European-oil linked producers weren't the marginal cost producer during this period—which had higher costs—because there were enough cheaper suppliers that could satisfy demand.
Ukraine and China
Article continues below advertisement
When gas prices in Ukraine started to rise in mid-2010, urea prices also rose. Later in the year, higher anthracite and coal prices in China helped push prices even higher. China became the more expensive producer in 2011, according to Yara International. A stricter tariff program (a high export tax and a shorter duration of lower tax windows) also contributed to the more expensive price, despite higher natural gas prices in Ukraine as well.
Urea prices fall
Starting in 2012, urea prices gradually fell. This was driven by lower coal prices in China, which was the marginal producer then, amid continued capacity expansion. Throughout this period, natural gas prices in Ukraine remained high, while supply began to build in China and urea prices stood low during the early part of 2013 despite the typical high export tax season imposed by the government.
Ways around high export taxes
While the government didn't change the export tax, there are ways around selling fertilizer prices at low export tax rates during the high export tax season (July to October for recent years). According to ICIS, "If product is moved to bonded warehouses prior to 31 October—when the low tax rate expires—then the lower tariff is still applicable. The volumes are limited by storage capacity and are subject to storage costs, but capacity is high and costs are minimal" compared to having to sell the product at high export tax rates.
Urea prices stood low
In 2013, we saw that urea prices fell to as low as $300 per metric tonne, which was the price floor established for many coal-based urea producers in China. This was lower than some of the more expensive producers in Ukraine, as Agrium Inc. (AGU) recently showed.