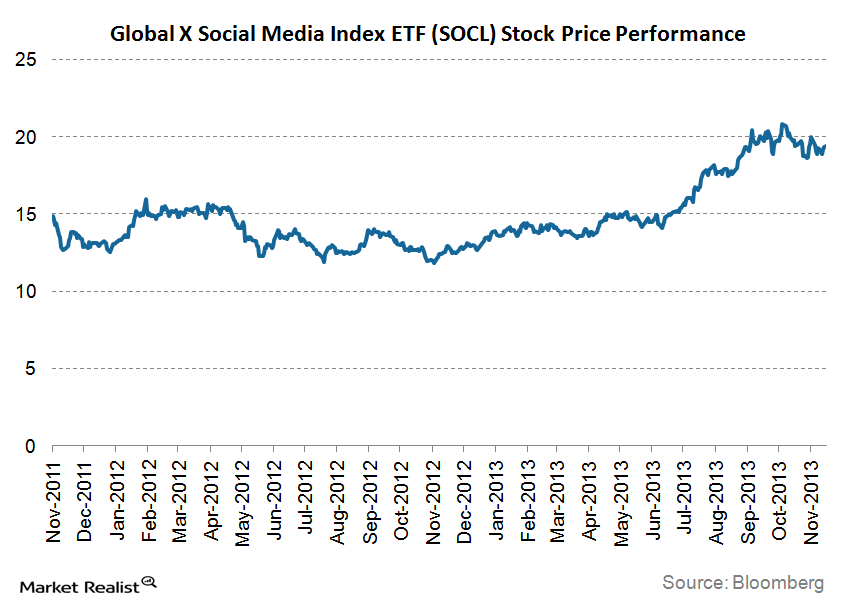 Why do Twitter and its social media peers attract investors?
By Samuel Madden, CFA

Oct. 29 2019, Updated 5:43 p.m. ET
The Twitter IPO
People have been asking me over the past few weeks what my views are on the Twitter IPO (TWTR) as well as my view on Twitter as a general business. As a company, it presents an extremely powerful platform to share any information with any person in a completely open format in an instant. No other platform is designed to have such a broad-reaching and instantaneous presence, which creates immense possibilities and business potential. However, in terms of valuation and profitability, I had no real opinion on the stock, as I had not really dug into the numbers… until now.
Article continues below advertisement
Social media stocks have historically been extremely volatile after their IPO. Also, the industry is still very new, thus there have not been many case studies. Over the past couple of years, the social networking companies of similar size that have gone public include LinkedIn (LNKD) and Facebook (FB). I included Google (GOOG) in this analysis as well just to help with the framework.
Path to monetization
When looking at the peer "social" players, it's important to understand how easy (for lack of a better word) it was for each platform to develop monetization strategies. What we see is FB started monetizing its community essentially within the first year which, for some investors, was extremely compelling because A) Zuckerberg focused on making money even in the early years, and B) revenue could be generated while user growth was skyrocketing, demonstrating limited user backlash as it relates to ads and other revenue-generating aspects on FB. TWTR, however, took the longest to generate revenue off its users. Now, in the company's defense, management wanted to build an active and devoted user community before exposing them to potentially intrusive ads. Yet at the same time, some may argue that TWTR is a more limited platform in terms of monetization capabilities, which is why it took it the longest to generate real sales.
Profitability
Article continues below advertisement
When you compare TWTR to its peers, the main difference you see is that TWTR is the only company that hit the public market without having positive operating income. LNKD went public with the lowest operating margins, while FB started trading with extremely impressive +50% margins. LNKD took the longest to turn an operating profit (six years), while for TWTR, it's been seven years and still negative margins. Again, to TWTR's defense, this is because management continues to reinvest in the business and is looking out long-term to unlock the most value in its business, as opposed to worrying about short-term profitability. However, most investors are rather short-term in focus, and might worry about why dollars aren't hitting the bottom line yet.
Valuation
The question everyone is asking is "How can TWTR be worth 40x revenue?" I consider myself a value guy, so this type of valuation does not make sense to me from a fundamental and high-level perspective. However, valuation, in its most basic form, is all relative. At an IPO price of $26 per share, TWTR was priced at ~23x LTM sales, which was on par with FB's IPO price. It quickly traded up to above $40 per share, and since then has stuck in the ~40x sales range—above where its peers have traded. Yet shortly after each of LNKD's and FB's IPOs, they were each trading at ~30x and ~20x LTM sales, respectively. (Granted, each of these stocks had an extremely volatile first six months, but let's ignore that short-term volatility for the sake of this analysis.) When stock valuations get above 10 or 15x top line, the marginal difference between something trading at 30x versus 40x does not really get me worried. Investors are pretty much "guesstimating" valuations at those elevated levels. All they know is the market is going to be much larger in the next few years. Now, whether that means 30x larger or 40x larger, no one knows. This just gives you some perspective—with TWTR at these valuation levels, it's not unheard of.
Article continues below advertisement
Google

LinkedIn

Facebook

Twitter

Year Founded

1998

2003

2004

2006

Years to get to >$1MM revenue

2

3

1

4

Years to get to positive EBIT

3

6

5

(Not yet…)

At Time of IPO…
IPO Date

August 2004

May 2011

May 2012

November 2013

Recent quarter YOY sales growth

141%

110%

45%

105%

Recent quarter YOY MAU growth

NA

58%

33%

39%

LTM EBIT margin

35%

10%

51%

NA

After Day 1 of Trading…
EV/LTM Sales

11.1x

29.8x

18.4x

41.9x

EV/LTM EBIT

31.6x

306.5x

38.0x

NA

Current Trading Multiples…
Enterprise Value

$296BN

$24BN

$105BN

$22BN

EV/2014E Sales

4.3x

10.9x

10.1x

NA

EV/2014E EBIT

13.7x

57.0x

22.7x

NA
Bottom line
Understanding investor sentiment in a stock can sometimes be just as useful as understanding the fundamentals of a business. What the above table demonstrates to me is the investor community is getting increasingly comfortable with social media as an investment and as a viable business industry. TWTR stock is holding up incredibly well in the +$40 per share range, even though, compared to its peers, TWTR:
Took the longest to monetize its user base
Is the only one not generating positive EBIT
At +40x LTM sales, has the highest valuation
Since IPO, investors that have held on to LNKD and FB have made 398% and 24% returns, respectively. The stock performance of each of TWTR's peers, coupled with their abilities to eventually monetize their users, has caused TWTR to earn investors' confidence. Even in FB's ninth year of being a company, its most recent 3Q saw an almost doubling in top line. TWTR is only in its seventh year, and only needs two years of doubling to land in the ~11x forward sales valuation range, similar to LNKD and FB. It some weird way, I can say that at $42, TWTR's valuation makes sense.
The Market Realist Take
Article continues below advertisement
Twitter (TWTR) saw a successful IPO, with shares surging 73% on opening day. The share price rose from the $17-to-$20 range to the $23-to-$25 range before the launch. Since the IPO, shares have traded up to over $50, but they've edged down slightly to trade at $41, with a market cap of $23.5 billion.
In its S-1 amendment to its IPO filing, Twitter stated from 2011 to 2012, revenue increased 198%, to $316.9 million. Net loss decreased 38%, to $79.4 million, and adjusted EBITDA increased 149%, to $21.2 million. From the nine months ended September 30, 2012, to the nine months ended September 30, 2013, revenue increased 106%, to $422.2 million, net loss increased 89%, to $133.9 million, and adjusted EBITDA increased $27.1 million, to $30.7 million. Twitter has more than 230 million monthly active users, or MAUs. It has more than 100 million daily active users, spanning nearly every country.
Its users create approximately 500 million "tweets" every day. In the three months ended September 30, 2013, 76% of its average MAUs accessed Twitter from a mobile device, including mobile phones and tablets, and over 70% of their advertising revenue was generated from mobile devices. It expects that the proportion of active users on mobile devices, and advertising revenue generated from mobile devices, will continue to grow in the near term.
Article continues below advertisement
Social media stocks seem to be the flavor of the season, with the Global X Social Media Index ETF (SOCL) up 47% year-to-date. The Global X Social Media Index ETF is designed to measure the performance of companies involved in the social media industry. TWTR is one of SOCL's 28 social media holdings with a weighting of 4.12%. Besides Twitter, Facebook, Zynga (ZNGA), and LinkedIn, SOCL also includes Chinese Internet companies like Tencent and SINA.
Many analysts think Twitter stock is overvalued and will settle down once the initial euphoria fades. Meanwhile, high valuations of social media stocks and a low interest rate environment have led to some analysts warning about a tech IPO bubble similar to the dot-com bust at the turn of the millennium. Facebook, Groupon, and Zynga saw stocks lose more than half their value in the months following their debut. Among these companies, Facebook was able to reclaim its $38 IPO price in July 2013 on the back of solid revenues fueled by its mobile advertising business. Twitter's IPO saw the stock valued at 43 times its sales in 2012, and the company has yet to generate a profit, while both Facebook and LinkedIn reported profits at the time of their IPO. However, investors remain bullish about Twitter, as they expect growth in revenues driven by mobile ads and an increase in user base.