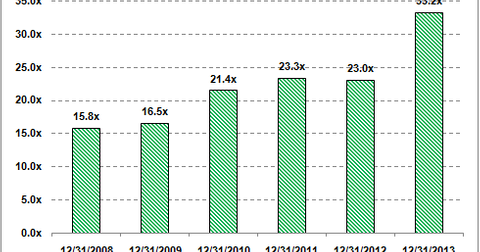 Why did Highbridge Capital move out of Tractor Supply Company?
By Samantha Nielson

Updated
Highbridge Capital Management, LLC is a multi-strategy alternative investment management firm founded by Glenn Russell Dubin and Henry Swieca in 1992. In late 2004, J.P. Morgan Asset Management purchased a majority interest in Highbridge, creating one of the first and most significant strategic alliances in the hedge fund industry. In July 2009, J.P. Morgan Asset Management completed its purchase of substantially all remaining shares of the firm. Highbridge and its affiliates manage approximately $29 billion in capital for many of the world's most prominent institutional investors, public and corporate pension funds, endowments, foundations, family offices and high net worth individuals. The firm is based in New York with offices in Hong Kong and London.
The fund bought new positions in Lowe's Cos Inc (LOW), Schlumberger Ltd (SLB), Groupon Inc (GRPN), and Tempur Sealy International Inc (TPX) in 3Q 2013. It sold its positions in Cosan Ltd (CZZ), Cummins Inc (CMI), and Tractor Supply Company (TSCO).
Abbreviated financial summaries and metrics for these securities are included below. Detailed analysis and recommendations require a subscription (more information at the bottom of the article).
Why sell Tractor Supply Company (TSCO)?
Highbridge exited a 0.52% position in retail farm and ranch store chain Tractor Supply Company.
Article continues below advertisement
The company reported strong results for the quarter. Net sales increased 13.4% to $1.21 billion from $1.07 billion in the prior year's third quarter.  Comparable store sales increased 7.5% versus a 2.9% increase in the prior year period.  The increase in comparable store sales was broad-based and driven by strong results in key consumable, usable and edible (C.U.E.) products as well as seasonal merchandise.  Sales benefited from an extended spring selling season that resulted from mild temperatures through much of the quarter. Net income for the quarter was $64.8 million, or $0.46 per diluted share, compared to net income of $50.0 million, or $0.35 per diluted share, in the third quarter of the prior year.
The animal and pet categories continued to perform well with strong comparable store sales that were above chain average. Seasonal categories such as live goods, certain gardening categories, outdoor living, riding lawnmowers and repair saw good performance.
As a result of its stronger-than-expected operating performance in the third quarter, it said it is increasing its net income expectation for the full year 2013. Net income is expected to be in the range of $317 million to $322 million or $2.24 to $2.27 per diluted share as compared to its previous guidance of $309 million to $315 million or $2.18 to $2.22 per diluted share. It also expects full year sales to range between $5.12 billion and $5.17 billion compared to the previous expectation of $5.1 billion to $5.17 billion. Correspondingly, same-store sales for the year expected to increase 4.2% to 5% compared to the prior expectation of an increase of 4% to 5%.
Article continues below advertisement
It said it is well positioned to head into the fall and winter season, but expects that moderating inflation and the prospect of deflation in certain categories will be a slight headwind to comp sales in the fourth quarter. Also impacting sales comparisons in the fourth quarter will be the shortened holiday selling period as a result of the shift of Thanksgiving holiday, which creates 1 less week between Thanksgiving and Christmas this year compared to last year.
The company's profit margins expanding, supported partly by its increasing portfolio of private-label brands. The company is also focussing on on direct sourcing. It said it will continue to execute the business around its sales and margin enhancing initiatives. The stock is up 65% YTD.
Tractor Supply Company operates 1,245 stores in 47 states. The company's stores are focused on supplying the lifestyle needs of recreational farmers and ranchers.  The company also serves the maintenance needs of those who enjoy the rural lifestyle, as well as tradesmen and small businesses.  Stores are located in towns outlying major metropolitan markets and in rural communities.  The company offers the following comprehensive selection of merchandise: (1) equine, pet and small animal products, including items necessary for their health, care, growth and containment; (2) hardware, truck, towing and tool products; (3) seasonal products, including lawn and garden items, power equipment, gifts and toys; (4) maintenance products for agricultural and rural use; and (5) work/recreational clothing and footwear.
Article continues below advertisement
The fund started in 1992 with $35 million in capital and is named after the 19th century aqueduct that connects Washington Heights and the Bronx. It seeks to attain consistent capital appreciation primarily through arbitrage and absolute return investment strategies in the global financial markets.  The firm has evolved over the past nineteen years and developed a diversified multi-strategy investment platform comprising more than six distinct investment strategies which serve as "alpha engines".  Some of Highbridge's core absolute return investment strategies include Convertible Bond Arbitrage, Credit, Global Macro, Long/Short Equity and Statistical Arbitrage.
Founder Glenn Russell Dubin was born in 1957 in the Washington Heights section of upper Manhattan. He graduated in 1978 with a degree in economics from Stony Brook University and began his career in finance as a retail stock broker at E. F. Hutton & Co. in 1978.  In 2010, Dubin was instrumental in broadening the Highbridge investment platform by partnering with J.P. Morgan Asset Management to lead the acquisition of a majority interest in Gávea Investimentos, one of Brazil's most prominent alternative investment managers. Dubin stepped down from the CEO position at Highbridge in July 2013 and continues to remain as the chairman at the firm.