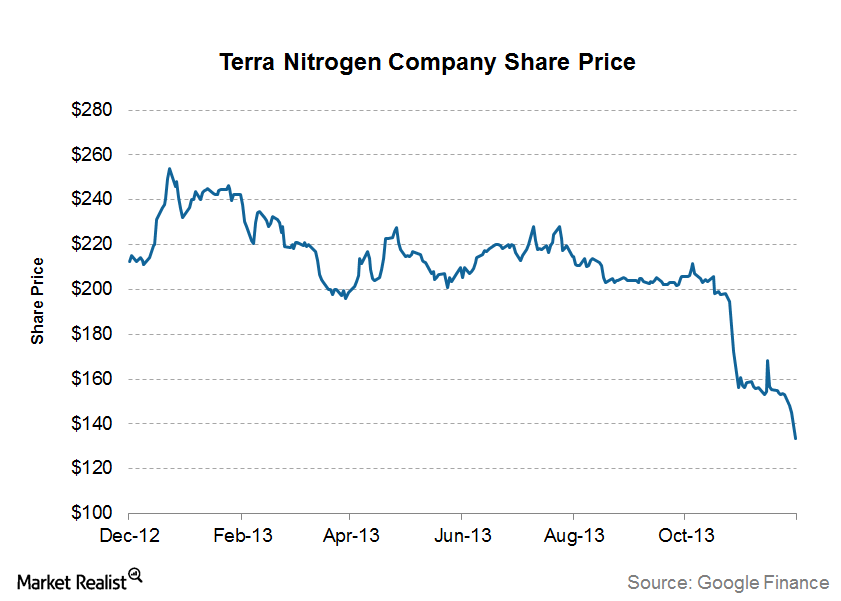 Why TNH stock dropped another 10%: Could this be an opportunity?
By Xun Yao Chen

Oct. 29 2019, Updated 5:39 p.m. ET
Terra Nitrogen falls further
After collapsing about 20% in November, Terra Nitrogen Company LP (TNH)—a nitrogenous fertilizer producer—continued to slide. On December 4, the stock jumped 7%, following CF Industries' presentation claiming that CF is considering moving some of its assets into an MLP structure that will save taxes for investors. Yet this in no way benefits TNH, and as soon as investors realized this the next day, the stock reversed downward.
What's driving the fall?
Article continues below advertisement
The recent moves puzzles us, since other companies like CF Industries Holdings Inc. (CF), Agrium Inc. (AGU), or Potash Corp. (POT) haven't seen the same kinds of movements. This series will attempt to investigate the key factors that drive the fundamentals of Terra Nitrogen Company and its share prices to see whether something negative has happened. This includes factors like global ammonia and urea prices, natural gas prices, and valuations.
Was it too much?
And perhaps we may find that TNH's recent moves were exaggerated. It's important to know that value investors aren't the only kind of investors out there. There are participants who move based on news, technical indicators, or algorithms. After all, TNH did rise 7% when CF Industries Holdings Inc. (CF) jumped on December 4. It wouldn't be surprising if TNH did move on technical indicators, or if technical indicators accelerated recent declines, spooking many investors.