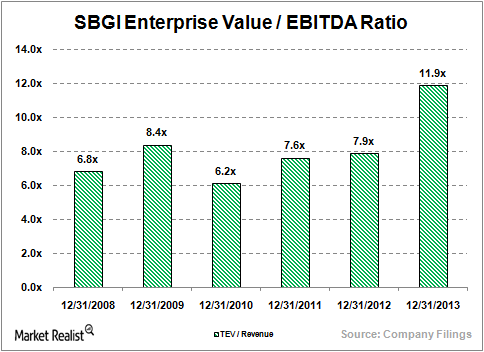 Tiger Global Management starts positions in YHOO, LINTA, SODA, TRIP and sells SBGI, QCOM—13F Flash E
By Samantha Nielson

Dec. 4 2020, Updated 10:53 a.m. ET
Tiger Global Management, LLC, is a fundamentally oriented global investment firm. The firm deploys capital in two businesses—private equity partnerships and public equity funds. Tiger Global's private equity partnerships have ten-year horizons and invest in growth companies in the global Internet and technology sectors. The firm's public equity funds focus on long-term trends in the technology, telecom, media, retail, and consumer sectors. For public and private equity investments, the firm invests across the globe with a focus on the United States, China, India, Southeast Asia, Latin America, and Eastern Europe. The New York–based Tiger Global was founded in 2001, and it has about $6 billion in assets under management.
Abbreviated financial summaries and metrics for these securities are included below. Detailed analysis and recommendations require a subscription (more information at the bottom of the article).
In this six-part series, we'll go through some of the main positions Tiger Global Management traded this past quarter.
Tiger Global started new positions in Yahoo Inc. (YHOO), Liberty Ventures (LINTA), SodaStream International Ltd. (SODA), and TripAdvisor Inc. (TRIP) and it sold Sinclair Broadcast Group (SBGI) and QUALCOMM Inc. (QCOM).
Why sell Sinclair Broadcast Group (SBGI)?
Article continues below advertisement
Sinclair Broadcast Group reported $0.36 earnings per share (EPS) for 3Q that beat analyst expectations. Net broadcast revenues from continuing operations increased 34.7%, to $303.0 million, versus $225.0 million the prior year. EPS in 2Q 2013 had decreased 48.65%, to $0.19, but total revenue increased 23.9%, to $314.2 million.
Political revenues were down to $2.7 million versus $27.8 million in the third quarter of 2012. Local net broadcast revenues, which include local time sales, retransmission revenues, and other broadcast revenues, were up 53.3%, while national net broadcast revenues, which include national time sales and other national broadcast revenues, were down 7.0% versus the third quarter of 2012.
According to the company's management, while political revenues should benefit from the implementation of the Affordable Care Act, the uncertainty surrounding the government's computer enrollment issues has resulted in slower-than-expected state spending on related advertising. Advertising in the automotive sector, however, remains robust, growing 9.3% in 3Q year-over-year, as sales of new cars hit their highest levels since 2007. In 4Q, auto advertising, on a same-station basis, is expected to grow by high single digits compared to 4Q last year.
Article continues below advertisement
On August 8, 2013, the company closed on its previously announced purchase of Fisher Communications, Inc. (FSCI) for $373.2 million. It has announced further acquisitions of radio assets in October. It said the Allbritton, New Age, and Peak Media station acquisitions aren't expected to close in 2013.
Sinclair president and CEO David Smith said the company's 3Q results showed an increase of 11.0% in net broadcast revenues on a same-station basis, excluding political revenues, which was driven by growth in its retransmission revenues and core business. Going ahead, it's beginning to assess other possible avenues for growth after the industry consolidates, including enhancing its original content offerings and distribution, the pursuit of strategic partnerships, and the monetization of spectrum holdings—all with the intent of creating additional value for shareholders.
Tiger Management Corp., also known as "The Tiger Fund," was a hedge fund founded by Julian Robertson. The fund began investing in 1980 and closed in March 2000. After closing his Tiger Fund in 2000, Robertson used his own capital to support and finance upcoming hedge fund managers. One of the seeded funds is Tiger Global Management LLC, which was set up with managing partner Charles "Chase" Payson Coleman III. The fund is co-managed by Feroz Dewan.
According to a Bloomberg article, "Tiger cub" Chase Coleman is a descendent of Peter Stuyvesant, the last Dutch governor of New York. He graduated from Williams College and worked as a technology analyst for Robertson at Tiger Management LLC. Coleman initially named his fund "Tiger Technology Management," later changed to Tiger Global.