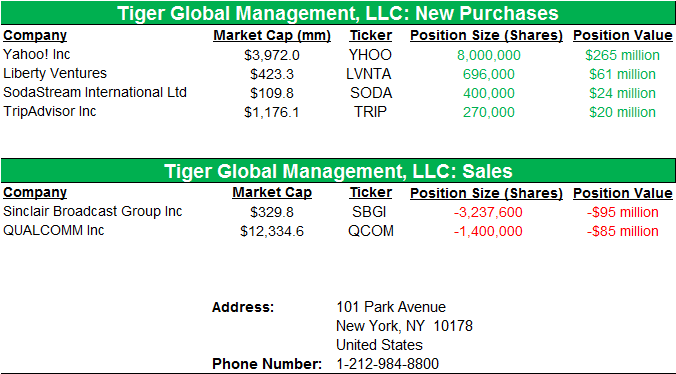 Tiger Global Management starts positions in YHOO, LINTA, SODA, TRIP and sells SBGI, QCOM—13F Flash A
Tiger Global Management, LLC, is a fundamentally oriented global investment firm. The firm deploys capital in two businesses—private equity partnerships and public equity funds. Tiger Global's private equity partnerships have ten-year horizons and invest in growth companies in the global Internet and technology sectors. The firm's public equity funds focus on long-term trends in the technology, telecom, media, retail, and consumer sectors. For public and private equity investments, the firm invests across the globe with a focus on the United States, China, India, Southeast Asia, Latin America, and Eastern Europe. The New York–based Tiger Global was founded in 2001, and it has about $6 billion in assets under management.
Abbreviated financial summaries and metrics for these securities are included below. Detailed analysis and recommendations require a subscription (more information at the bottom of the article).
In this six-part series, we'll go through some of the main positions Tiger Global Management traded this past quarter.
Tiger Global started new positions in Yahoo Inc. (YHOO), Liberty Ventures (LINTA), SodaStream International Ltd. (SODA), and TripAdvisor Inc. (TRIP) and it sold Sinclair Broadcast Group (SBGI) and QUALCOMM Inc. (QCOM).
Why buy Yahoo Inc. (YHOO)?
Article continues below advertisement
Yahoo's GAAP net earnings declined 91%, to $297 million (or $0.28 per share), for 3Q 2013, compared to $3,160 million (or $2.64 per share) a year earlier. 3Q 2012 earnings were higher, as they included $2.8 billion from the stake sale in Alibaba Group. Revenue excluding traffic acquisition costs (ex-TAC) declined 1%, to $1,081 million, for 3Q 2013 from the previous year.
In 2Q 2013, the company saw an increase in earnings but a 7% decline in revenue due to lower revenue from display and search ads, as it faced increasing competition in the space from peers Google and Facebook. In 3Q 2013, its display ad revenue (ex-TAC) declined 7% year-over-year, to $421 million. Search revenue ex-TAC grew 6%, excluding the impact of a shutdown of its operations in Korea. The number of ads sold in 3Q increased 1% year-over-year.
The company said it remains committed to controlling costs. Its capital spending was once again down significantly year-over-year, to $78 million and $229 million on a year-to-date basis. Operating expenses were higher, as they included the impact of incorporating costs associated with Tumblr and other acquisitions. During the third quarter, Yahoo made eight acquisitions to strengthen its products, content offerings, core technology, and talent, including Bignoggins, Qwiki, Xobni, Admovate, Ztelic, Lexity, Rockmelt, and IQ Engines. It was recently reported to have acquired online video players QuikIO, Evntlive, and Ptch, and natural language data startup SkyPhrase. Yahoo said in its earnings call that the acquisitions primarily aimed at bringing entrepreneurial and technical skills in. News reports suggested that the acquisitions aimed at improving Yahoo's capabilities for mobile videos and increasing user traffic.
Article continues below advertisement
In 3Q, Yahoo repurchased 59 million shares for $1,685 million and used a net $163 million for acquisitions. For the fourth quarter, it expects revenue ex-TAC to be in the range of $1.18 billion to $1.22 billion, adjusted EBITDA to be between $400 million and $420 million, and non-GAAP operating income to be between $240 million and $260 million.
In a separate announcement, Yahoo said it has reduced the maximum number of shares it was required to sell in Alibaba's initial public offering (IPO) from 261.5 million shares to 208 million shares. It said it intends to keep a larger stake, as it believes in the long-term potential and value of Alibaba. The announcement led to an increase in the company's stock price, as investors expect Yahoo to gain from its stake in Alibaba. According to a presentation by Yahoo, e-commerce platform Alibaba's revenue increased 60%, to $1.73 billion, in 2Q 2013, and net income more than doubled to $707 million. Analysts expect Alibaba to raise as much as $10 billion to $15 billion in its IPO.
Tiger Management Corp., also known as "The Tiger Fund," was a hedge fund founded by Julian Robertson. The fund began investing in 1980 and closed in March 2000. After closing his Tiger Fund in 2000, Robertson used his own capital to support and finance upcoming hedge fund managers. One of the seeded funds is Tiger Global Management LLC, which was set up with managing partner Charles "Chase" Payson Coleman III. The fund is co-managed by Feroz Dewan.
According to a Bloomberg article, "Tiger cub" Chase Coleman is a descendent of Peter Stuyvesant, the last Dutch governor of New York. He graduated from Williams College and worked as a technology analyst for Robertson at Tiger Management LLC. Coleman initially named his fund "Tiger Technology Management," later changed to Tiger Global.