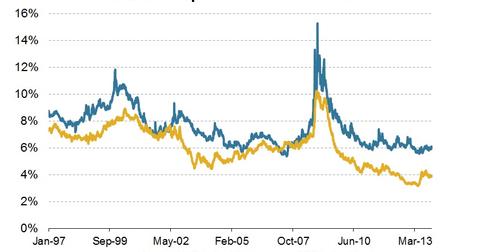 Relative value: Spread between debt and MLPs keeps drifting wider
By Ingrid Pan

Updated
Master limited partnership yields are often benchmarked against corporate credit yields
The relative value of master limited partnerships (MLPs) is often compared to other yield vehicles, like corporate bonds. This is because MLPs pay out a quarterly distribution, and one of the main investment points of MLPs is the income generated from owning them. The Alerian MLP Index, a capitalization-weighted composite of 50 energy master limited partnerships, was trading 213 basis points (or 2.13%) wide of the BofAML BBB corporate credit index on December 6 (an index meant to represent the universe of bonds that are rated BBB). The spread between the two widened approximately 50 basis points from the beginning of July, when it was at 160 basis points. This slightly increases the disparity between the two and makes favoring MLPs over debt more attractive.
Article continues below advertisement
Note that there's an ETF that tracks the Alerian MLP Index called the Alerian MLP ETF (AMLP). The top chart shows the historic yields of the two indices. Also, as the below chart shows, the difference in yields between MLPs and corporate credit is significantly wider than the ten-year average spread.
Interest rates currently close to historic lows, meaning reversion would favor equities
Interest rates have been close to historic lows for a while, as the Federal Reserve has taken significant measures to keep rates low with the intention of helping the U.S. economy. As the economy recovers, the Fed has signaled that it will curtail certain easy money measures, which could result in higher interest rates. For more on this, see Why bonds sold off on stronger economic data and a hawkish Fed.
If you believe rates will eventually rise again, MLPs like the Kinder Morgan Energy Partners (KMP), Enterprise Products Partners (EPD), Targa Resources (NGLS), and MarkWest Energy (MWE) or a fund like the Alerian MLP ETF (AMLP) could be more attractive than corporate credit, and these investments still provide current income through distributions.