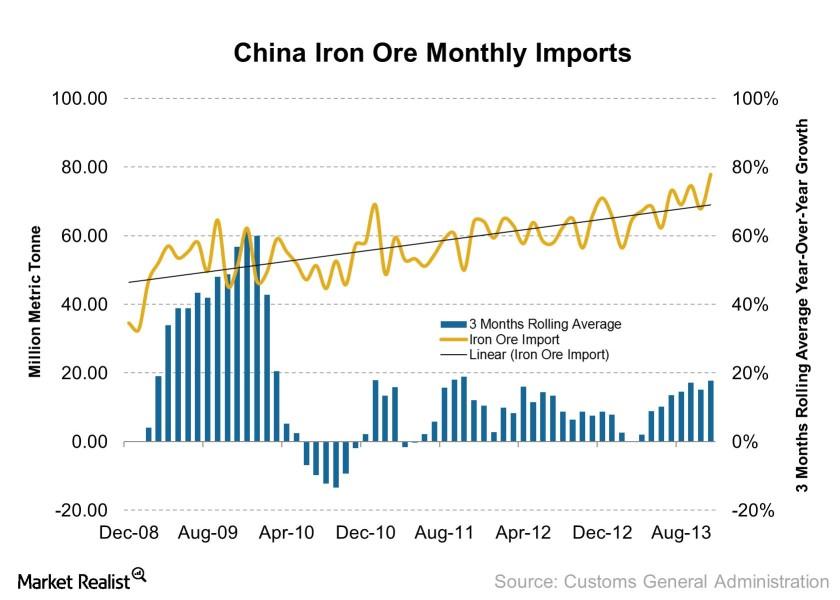 Why were record shipments of iron ore delivered in November?
By Xun Yao Chen

Dec. 18 2013, Published 4:00 p.m. ET
Iron ore import
Being the world's largest importer of iron ore, making up up to 75% of total iron ore trade, China's iron ore imports are a key driver of demand for dry bulk vessels and rates. While the data is published a few weeks after each month has ended, it nonetheless reflects China's economic health and fundamentals for dry bulk shippers. Since higher iron ore imports mean higher shipping rates, they're fundamentally positive for dry bulk companies that haul key dry bulk materials like iron ore, coal, and grain across the ocean.
Record import
Article continues below advertisement
Iron ore imports have risen lately due to increased export from Australia and Brazil. During the first quarter of 2013, Australia supplied close to 50% of total seaborne iron trade, while Brazil supplied 25%. In November, China imported a record amount of 77.84 million mt (metric tonnes) of iron ore.
On a year-over-year basis, growth stood at 18.33%. Using a three-month rolling average to smooth out volatility and short-term noise, year-over-year growth increased from 15.1% to 17.8%, reflecting healthy imports.
Lagging indicator
Iron ore imports have lagged higher economic activity towards the end of last year due to persistently high levels of iron ores and iron ore prices. When iron ore inventory levels and prices fell after the first quarter of 2013, traders began to import more iron ore from Australia and Brazil.
Investors should note that Chinese import data lags shipping rates by a few weeks, since it takes time to contract a dry bulk vessel, load the iron ore, and ship it to Chinese ports. So rates generally rise before imports. Still, it's still a critical piece of the industry's puzzle.
Seasonality
China also tends to import more iron ore towards the end of the year to build stockpiles as domestic producers start facing a colder winter, prompting them to shut down mines. Expectations of higher iron ore prices due to weather disruptions in places like Australia and Brazil are another reason traders tend to pull demand forward. This is why analysts often look at the year-over-year growth, which is reporting healthy figures.
As long as China's iron ore imports continue to grow, this is positive for dry bulk shipping rates and share prices for companies like DryShips Inc. (DRYS), Diana Shipping Inc. (DSX), Navios Maritime Partners LP (NMM), Navios Maritime Holdings Inc. (NM), and Safe Bulkers Inc. (SB).