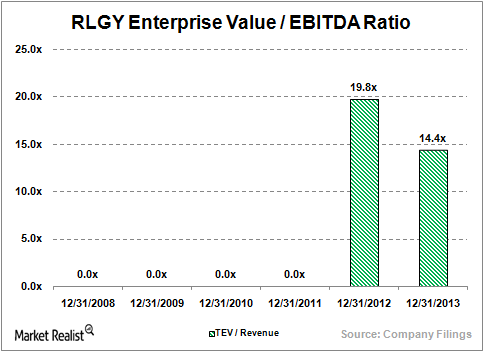 Why did Omega Advisors buy a share in Realogy Holdings?
By Samantha Nielson

Aug. 18 2020, Updated 6:29 a.m. ET
Omega Advisors Inc. is a New York–based investment advisory firm founded in 1991 by Leon G. Cooperman. Omega has approximately $10 billion under management (as of November 30, 2013).
Abbreviated financial summaries and metrics for these securities are included below. Detailed analysis and recommendations require a subscription (more information at the bottom of the article).
Omega Advisors started new positions in Sprint Corp (S), Freeport-McMoRan Copper (FCX),  HCA Holdings Inc. (HCA), and Realogy Holdings Corp. (RLGY) and it sold Occidental Petroleum (OXY), Wells Fargo & Company (WFC), and Crocs Inc. (CROX).
Why buy Realogy Holdings Corp. (RLGY)?

Omega bought a 1.04% position in real estate brokerage operator Realogy Holdings Corp. in 3Q 2013.
Article continues below advertisement
Realogy's net revenue for 3Q 2013 was $1.55 billion, a 21% increase compared to the same period in 2012. Adjusted net income for the third quarter was $150 million and EPS was $1.03 per share. The company saw a 29% increase in year-over-year homesale transaction volume, which exceeded the 26% sales volume increase reported by the National Association of Realtors. While industry observers anticipated that the mortgage rate environment would slow the housing recovery, the company believes there was an acceleration. In its view, the strong volume increase was driven by a combination of pent-up demand, relatively low inventory, and a shift in homebuyer preference to purchase existing homes over new homes due to the ability to lock in mortgage rates for the shorter period it takes to close on an existing home purchase over a new home.
During the third quarter of 2013, the Realogy Franchise Group (RFG), its franchise segment, and NRT, the operator of its company-owned brokerage offices, reported closed homesale transaction gains of 19% and 17%, respectively, year-over-year. Average homesale price improved 10% at RFG and 8% at NRT compared to 3Q 2012.
In 4Q 2013, the company expects year-over-year homesale transaction volume growth to continue—though at a slower pace than the uncharacteristically strong fourth quarter of last year, which was influenced by the then-impending change in the capital gains taxes. So it expects that fourth quarter homesale transaction volume for RFG and NRT combined should increase 6% to 8% compared to 4Q 2012, even on the heels of the extremely strong transaction volume increases in the third quarter. Rising rates slowed mortgage refinancing, which resulted in downward pressure on margins for mortgage lenders. PHH Home Loans, its joint venture for mortgage services, is expected to see downward pressure on its earnings in the fourth quarter.
Article continues below advertisement
Realogy said that it's well positioned to capitalize on the anticipated multi-year growth of homesale transactions and average homesale price. With the ongoing sustainable recovery in the existing housing market, improved operating margins, and lower cash interest expense, it expects to continue to generate strong free cash flow and create value for its shareholders.
Realogy Holdings Corp. is a global leader in real estate franchising with company-owned real estate brokerage operations doing business under its franchise systems as well as relocation and title services. Realogy's brands and business units include Better Homes and Gardens Real Estate, CENTURY 21, Coldwell Banker, Coldwell Banker Commercial, The Corcoran Group, ERA, Sotheby's International Realty, NRT LLC, Cartus, and Title Resource Group. Collectively, Realogy's franchise system members operate approximately 13,600 offices with 244,000 independent sales associates doing business in 104 countries around the world. Realogy is headquartered in Madison, New Jersey.
According to hedgefundletters.com, Omega Advisors primarily invests in domestic public equity and dabbles in markets such as bonds and commodities. When the fund focuses on investing in value equities, it uses a combination of a top-down approach, to carefully choose the sector, and a long-short fundamental analysis. To create his portfolios, Leon G. Cooperman takes a bottom-up approach to form his portfolios with the S&P 500 index as the benchmark.
Cooperman was born in New York and as an undergraduate at Hunter College, he joined and was an active member of Alpha Epsilon Pi. After graduating, he became a Xerox quality control engineer in 1965. He later received his M.B.A. from Columbia Business School, graduating in 1967. After 25 years of service, Leon Cooperman retired in 1991 from his positions as general partner of Goldman, Sachs & Co. and as chairman and chief executive officer of Goldman Sachs Asset Management in order to set up Omega.