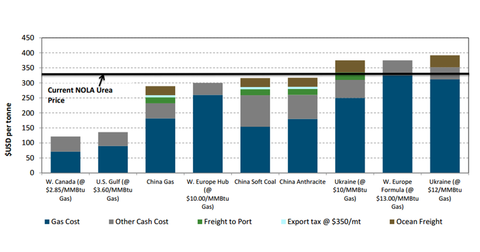 Why protests in Ukraine could matter for CF, AGU, POT, and TNH
By Xun Yao Chen

Updated
Ukraine's role in the global fertilizer market
Ukraine is a key supplier of urea for the global market. As one of the costlier manufacturers in the world, its cost has set the floor price for the fertilizer in the past. So Ukraine's natural gas prices can influence global urea prices and the profits of nitrogenous fertilizer producers like CF Industries Inc. (CF), Agrium Inc. (AGU), Terra Nitrogen Company LP (TNH), and Potash Corp. (POT). This also applies to the VanEck Vectors Agribusiness ETF (MOO).
(Investors should read the Must-know: Understanding nitrogenous fertilizer prices series if they don't yet understand this concept.)
Ukraine backs away from the EU
There's a protest going on in Ukraine, which started off when President Yanukovych refused to sign an association deal with the 28-nation European Union on November 21, after years of talks, amid pressure from Russia.
Article continues below advertisement
When the date for signing the EU agreement neared, Russia warned of economic catastrophe and civil unrest if Ukraine signed the accords. Russia also offered Ukraine membership to its customs union, which has been discussed before, lower natural gas prices, and the "loans" necessary to keep its government from collapsing.
Natural gas strife
Natural gas prices have been a key source of strife between the two nations for a decade, particularly during the winters of 2006 and 2009, when Gazprom cut off supplies to Ukraine. High natural gas prices are a key factor that drove Ukraine's structural trade deficits.
In October 2013, Russia had complained that Ukraine owed the country $882 million for gas delivered in August. But Ukraine, which pays about $400 per 1,000 cubic metres for Russian gas and is one of the highest payers in Europe, has asked Moscow to ease the terms that Ukraine considers excessive and unaffordable for the debt-strapped country, according to a Reuters article.
Large Russia dependence
Roughly 80% of Ukraine's natural gas is imported, with the majority coming from Russia and Turkmenistan. Russia itself is a major supplier of the natural gas to the whole of Europe. Energy independence and security have been major topics in Europe, just like in the United States.