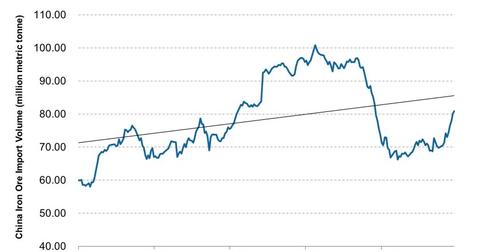 Port iron ore inventories hit over 80MM metric tonnes as rates rise
By Xun Yao Chen

Updated
Iron ore inventory
Iron ore inventory at Chinese ports is an important factor that affects future shipping rates, since it reflects the safety net and the imbalance between iron ore supply and steel mill demand. When inventory levels are high, they reflect possible over-purchases by importers, which may prompt importers to cut back on imports in order to lighten up inventory in the near future. On the other hand, when inventory levels are low, importers may restock, which will aid iron ore shipments.
Inventory at ports rise
On December 6, iron ore inventory at Chinese ports stood at 80.9 million mt, according to Antaike Information Development Company. This was much higher than the 73.07 million mt we saw at the beginning of November. The increase suggests more iron ore came into Chinese ports than was moved out.
Article continues below advertisement
Inventory levels have been falling since September 2012, as importers tried to lighten up inventory despite a pick-up in industrial activity in mid-2012. Before the decline, inventory levels had risen close to 100 million mt, as importers took advantage of falling commodity prices in late 2011 even though growth was starting to deteriorate.
Below the long-term trend
While iron ore inventory levels have risen since earlier this year, so has crude steel production in China. Because inventory levels depend on crude production—if you have more kids to feed, you need more food stocked in your cupboard—and crude production has been growing at a constant pace since 2008, it's best to compare inventory to the long-term trend line.
The current inventory level is below this trend. However, inventory is catching up. This reflects either a substantial increase in imports or a slowdown in production. Rising inventory from low levels is often perceived as a short- to medium-term positive for shipping companies like DRYS, DSX, SB, NMM, and NM. But if inventories reach way above the trend line, they could become negative down the road.