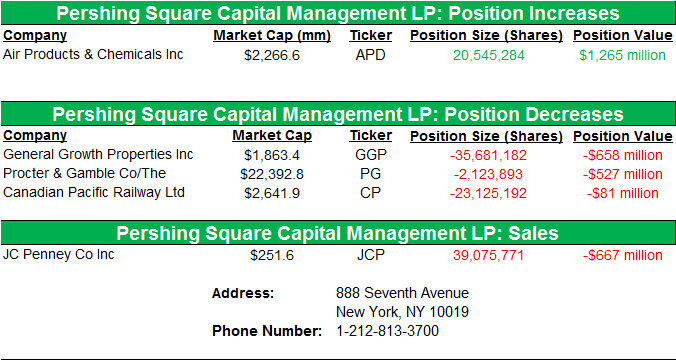 Will Ackman's bearish stance on Herbalife (HLF) finally pay off?
Pershing Square Capital Management is a New York–based activist hedge fund founded and run by Bill Ackman. Ackman started the firm in 2004 with $54 million from his personal funds and from his former business partner, Leucadia National. News reports in October claimed that the fund has seen its assets under management decline by $1.2 billion from $12.4 billion in March, mainly due to setbacks in investments made in J.C. Penney Co. (JCP) and a large bet against Herbalife Ltd. (HLF).
In this six part series, we'll go through some of the main positions Pershing Square Capital Management LP traded this past quarter.
The fund bought no new positions in 3Q 2013. It added to its positions in Air Products & Chemicals (APD), and reduced its positions in General Growth Properties, (GGP) Canadian Pacific Railway (CP), and Procter & Gamble (PG). It sold its positions in J.C. Penney (JCP).
Abbreviated financial summaries and metrics for these securities are included below. Detailed analysis and recommendations require a subscription (more information at the bottom of the article).
Herbalife (HLF) criticism
Article continues below advertisement
In December 2012, Ackman issued and presented a research report critical of nutritional supplement company Herbalife's multi-level marketing business model, calling it a pyramid scheme. He further disclosed that he was shorting $1 billion worth of Herbalife stock with a price target of $0. The shares of Herbalife fell initially on the claim, but they've rallied since then to more than 100% year-to-date. Moreover, not everyone seemed to be convinced of Ackman's claim, as major investors Carl Icahn, Kyle Bass, Bill Stiritz, George Soros, and Stan Druckenmiller have bought shares in Herbalife this year. Icahn even stated that the company is undervalued.
Ackman stated in a letter to investors in October 2013 that in order to mitigate the risk of further mark-to-market losses on Herbalife, he has restructured his $1 billion bet, reducing its short equity position by more than 40% and replacing it with long-term derivatives, principally over-the-counter put options. The restructuring of the position preserves the hedge fund's opportunity for profit. If the company fails within a reasonable timeframe, it will make a similar profit, as if it had maintained the entire initial short position, while mitigating the risk for further substantial mark-to-market losses because its exposure on the put options is limited to the total premium paid. Ackman said in the letter, "In my career, I have not seen a less attractive risk-reward ratio than a long investment in Herbalife common stock at current levels."
On November 22, 2013, Ackman said on Bloomberg Television that Pershing Square's open short position in Herbalife was "$400 million to $500 million" in the red, but that he intended to take his high-stakes bet "to the end of the Earth."
Article continues below advertisement
On December 16, Herbalife announced that PricewaterhouseCoopers LLP, its independent registered public accounting firm, has completed its re-audit of the company's consolidated financial statements for the fiscal years ended December 31 of 2010, 2011, and 2012. It said there were no material changes to its financial statements for 2010, 2011, or 2012, and that it's now up to date with the SEC. The company's shares surged following the announcement. Pershing Square Capital Management issued a statement on the re-audit, saying, "It is not the role of Herbalife's auditor to determine if the company is a pyramid scheme. Rather, that determination depends on whether distributors earn more from recruiting new distributors than from retail sales to consumers who are not distributors. The few Herbalife distributors that make money earn the vast majority of their profits from recruiting. Herbalife is a pyramid scheme that will be shut down by regulators." Following the re-audit announcement, analysts raised their price targets on the stock.
The company reported strong results in the latest quarter. It saw a 19% year-over-year increase in revenue to $1.2 billion in 3Q 2013. Adjusted net income for the quarter was $152.1 million, or $1.41 per diluted share, compared to the 3Q 2012 net income of $111.9 million and EPS of $0.98. Investors are also expecting a $50 million stock buyback announcement in the upcoming quarters. The company said on its earnings call that with respect to 2014, it's not guiding anything specific regarding buyback. It said adjusted EPS in the fourth quarter is expected to be between $1.11 and $1.15.
Pershing Square Capital uses fundamental analysis with a value orientation employing extensive research and thorough due diligence in its decision-making process. It uses a unique mix of value investing and an activist approach in sifting through and identifying investments.
Founder Bill Ackman has a Bachelor of Arts degree magna cum laude from Harvard College in 1988 and an MBA from Harvard Business School in 1992.