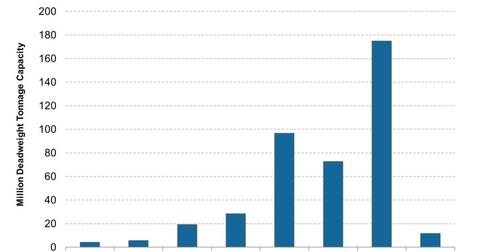 Overview and cheat sheet: Investing in the crude oil shipping industry
By Xun Yao Chen

Updated
Series purpose

This series provides an overview of crude tankers, key industry characteristics, as well as certain key indicators that are helpful to investors in order to determine whether the industry's fundamental outlook is favorable.
Shipping sub-industries

The shipping industry can largely be broken into three groups: dry bulk vessels, tankers, and containerships. Tankers can be broken down into two types: crude tankers and product tankers. Crude tankers are used to transport unrefined oil (crude oil) across the ocean, while product tankers are used to move refined oil.
Crude tanker vessels

Article continues below advertisement
There are three main types of crude tankers: VLCCs (very large crude carriers), Suezmax, and Aframax. In terms of size or capacity, VLCCs are typically 200,000 to 320,000 dwt, Suezmax are 120,000 to 199,999, and Aframax ranges from 80,000 to 119,999. Deadweight tonnage is a metric often used in the shipping industry to express the amount of weight a ship can safely carry on water. The higher the number, the larger the capacity.
VLCCs occupy the largest share
According to Drewry Shipping Consultants, there were roughly 574 VLCC, 470 Suezmax, and 902 Aframax vessels in the world as of January 31, 2013. For the same date, 42.3% of the industry's capacity was made up of VLCCs, while 17.6% went to Suezmax and 23.4% went to Aframax vessels.
Publicly traded companies
The main U.S. publicly traded companies that own these crude tankers include Frontline Ltd. (FRO), Teekay Tankers Ltd. (TNK), Nordic American Tanker Ltd. (NAT), Tsakos Energy Navigation Ltd. (TNP), and DryShips Inc. (DRYS). These used to be several billion-dollar companies in the market, but because of a significant increase in supply, they've fallen into vicious depression, and most are around $300 million in market cap (a measure of company value).
For investors looking to find an easy way to gain exposure to this industry, you can use the Guggenheim Shipping ETF (SEA), which is also exposed to other shipping sub-industries like dry bulk tankers and containerships.