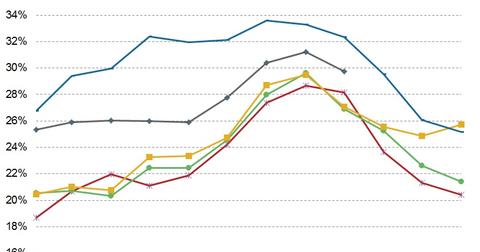 Must-know: 1 important thing that drives natural gas demand
By Ingrid Pan

Dec. 19 2013, Published 1:12 p.m. ET
Some power plants can switch between coal and natural gas for fuel
"Coal-to-gas switching" is a term used for when power plants decide to use natural gas in place of coal as fuel. Given sustained low natural gas prices, and the fact that natural gas burns more cleanly than coal, coal-to-gas switching had been rising for most of 2012. This trend increases natural gas demand and provides some support to natural gas prices, helping upstream energy producers with significant natural gas production. Power producers are incentivized to use more natural gas and less coal when natural gas prices fall relative to coal prices. So the ratio of natural gas prices to coal prices is one important factor that can drive natural gas demand.
In 2012, coal-to-gas switching helped support natural gas prices—but this year's higher gas prices caused natural gas to give some market share back to coal
As we've seen, for most of 2012, natural gas gained significant market share (mostly against coal) for use in power generation. However, in 2013, natural gas prices have risen relative to coal, causing natural gas to lose some market share in the power generation sector.
Article continues below advertisement
Although the straight ratio of coal prices to natural gas is a simplistic way to view the amount that market share will change between natural gas and coal, it's an easy way to at least determine directionally where market share will go. Over the past several weeks, natural gas prices have rallied strongly due to cold weather driving natural gas demand. However, while natural gas prices rally, this also eats into demand somewhat for natural gas as a fuel source for electricity. So natural gas is likely to lose some market share back to coal in December 2013 compared to December 2012.
The industry expects more natural gas–fueled power generation in the long term
Despite the recent decline in market share on a year-over-year basis, many expect that coal-to-gas switching will remain a long-term trend. For example, the government agency known as the Energy Information Administration (the EIA), noted in a report from December 2012 that in its forecast, coal remains the largest energy source for energy generation, but "its share of total generation declines from 42 percent in 2011 to 35 percent in 2040." The agency also states that market concerns about GHG emissions continue to dampen the expansion of coal-fired capacity in its forecasts. For more on this trend, see our series Why has natural gas gained popularity among power generators?
Recently, natural gas prices have increased relative to coal, which has caused the fuel to lose market share for power generation, as the power sector has some capacity to switch between the two. Over the long term, natural gas will be a favored fuel for electricity generation given government restrictions on emissions, as coal is a dirtier fuel. Because of the coal-to-gas switching trend, the relative movements of natural gas and coal prices are an indicator to watch for investors who hold domestic natural gas producer names such as Chesapeake Energy (CHK), Southwestern Energy (SWN), Range Resources (RRC), and EXCO Resources (XCO). Plus, investors interested in investing in natural gas directly through an ETF such as the US Natural Gas Fund (UNG) may also want to monitor relative natural gas and coal prices.