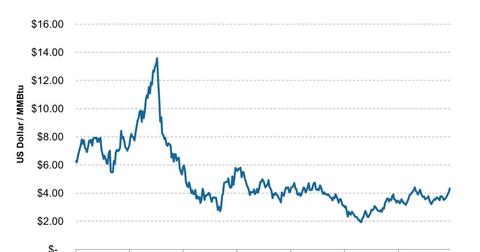 Why a natural gas boom may threaten nitrogenous fertilizer stocks
By Xun Yao Chen

Updated
Natural gas boom risk
The U.S. natural gas boom had benefited several manufacturing companies. This includes nitrogenous fertilizer producers such as CF Industries Holdings Inc. (CF), Terra Nitrogen Company LP (TNH), Potash Corp. (POT), and Agrium Inc. (AGU), which are also components of the VanEck Vectors Agribusiness ETF (MOO). But this may become a risk that develops over the next few years, and it's something investors may want to look at.
Historical context
Article continues below advertisement
Before shale gas was unlocked in the United States and oil prices soared in the early 2000s, the U.S. was one of the most expensive producers of nitrogenous fertilizers like ammonia and urea. So the U.S. had imported these fertilizers from cheaper producers around the globe, while U.S. manufacturers (and sometimes European producers) had set the floor prices.
Higher profits
The U.S. is still a major importer of nitrogenous fertilizers. But since 2009, lower natural gas prices in the United States have made U.S. nitrogenous fertilizer producers some of the cheapest in the world. This is significant because natural gas represents a large chunk of cash costs and lower natural gas prices have been a main reason why earnings ballooned for the companies mentioned above.
Urea prices, on the other hand, rose on the backs of higher natural gas in Europe and coal prices in China. In Europe, natural gas contracts are linked to oil prices, and the shale boom hasn't developed yet. While explorations are happening and prices are moving away from oil-linked contracts, this progress has been slow.
Shale gas in Europe?
However, none of these developments have progressed very rapidly, largely due to oppositions from the public, environmental groups, and companies like the Russian giant Gazprom, which benefits from keeping supply limited and natural gas prices high, an unstable political environment, and differences in the geological landscape that experts have said would make drilling more expensive and difficult.