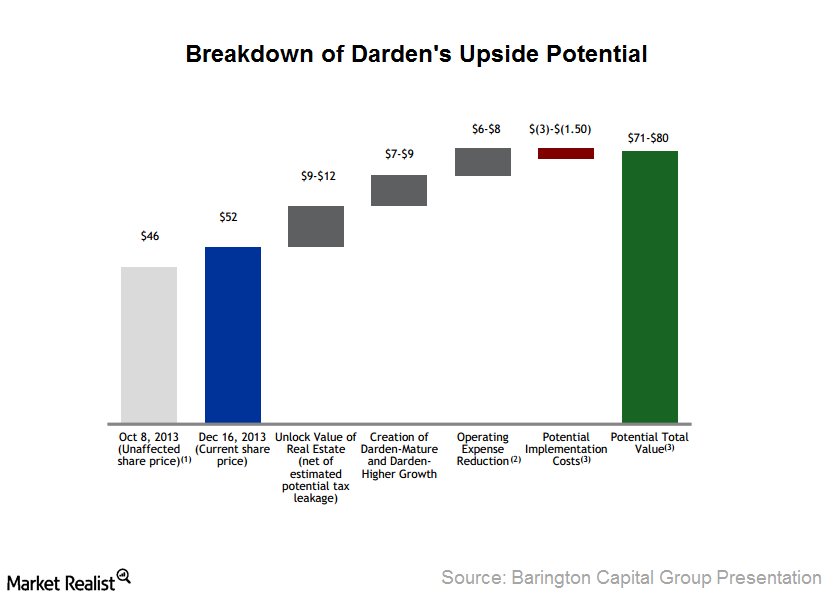 Must-know: 3 important things that could drive Darden up 45%
Barington says Darden could see a 45% upside
Based on Barington's recommendation, the activist hedge fund sees that Darden Restaurants Inc. (DRI) could be worth $71 to $80 a share. This is roughly a 45% increase from the December 6, 2013, share price, when Barington released the presentation, and close to 50% from the December 20, 2013, price.
Breakdown of the upside
Roughly $9 to $12 of share price appreciation is expected through a spinoff of real estate assets, another $8 can be expected from the creation of Darden-Mature and Darden-Higher Growth companies, and a successful operating expense reduction is expected to add $7 a share. About $2 a share could be lost to implement the initiative, which is quite minor compared to the potential gains. Indeed, when Barington first publicly announced that it was recommending Darden split, shares jumped close to 10% on the day.
Article continues below advertisement
Barington Capital Group's valuation projection has been questioned. Many analysts believe that further value of roughly $12 to $15 could be unlocked from disposing the company's internal real estate asset. But Morning Star analyst R.J. Hottovy noted, "While the higher-growth brands would command a higher multiple, Darden would lose some value on the more mature brands."
Spinoff opportunity
Regardless of the valuation, spinoffs usually present great opportunities for investors. In the book You Can Be a Stock Market Genius written by Joel Greenblatt (one of the best hedge fund managers in history, who focuses on special situations and value investing), the author explains that spinoffs tend to outperform because a spinoff is an inefficient method of distributing stock to the wrong people. Plus, "When a business and its management are freed from a large corporate parent, the combination of accountability, responsibility and more direct incentives" are sources of motivation and entrepreneurial forces that drive company performance.
Shares tend to fall after a spinoff
However, shares do tend to fall following spinoffs, as they're widely considered an inefficient means of distributing shares to investors who demand the new shares. Besides, companies often announce spinoffs to dispose of assets that aren't performing as well. So while we could see operating efficiency gains post–Darden spinoff, it will likely take time to realize. This could be an opportunity for those who purchase shares a while after the spinoff and believe these objectives could be implemented. If operating efficiency can be achieved, the upside potential could be even higher.
Market unimpressed, sends Darden down 5.0%
On December 19, 2013, Darden fell 5.0% on poor results and an announcement that it will only spin off Darden's brand. The market was certainly unimpressed, and this is a reason why investors should stay clear until a few days after the spinoff. We"ll publish key takeaways from the second quarter earnings call next week, which likely includes management's response to Barington's proposal.
Investors looking to invest in a diversified pool of spinoff investments can consider the Guggenheim Spin-Off ETF (CSD). To learn more about this spinoff, see Strategic analysis: Should Darden spin off its brands?