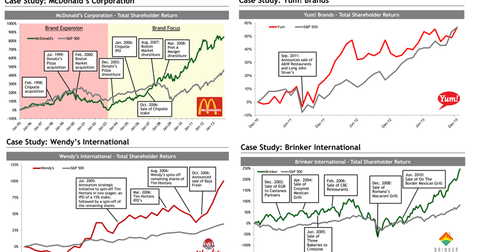 While MCD, YUM, WEN, and EAT condensed, Darden hoarded brands
By Xun Yao Chen

Updated
Darden has eight brands
Darden's expansion has led to a situation where all the eight brands operate under the direction of one management team. But brand-level focus is necessary for Darden to be competitive and remain competitive. This means organizational structure must change so that a change in business strategy and incentives could be aligned better.
Creation of two separate companies
The best way to tackle this situation is to first create two separate restaurant companies: one with more mature brands and another with higher growth. With the right focus, mature brands like Olive Garden and Red Lobster should be able to "recover to the industry-average levels of same-store-sales growth," the hedge fund says.
Several companies like McDonald's Corp. (MCD), Brinker International Inc. (EAT), The Wendy's Co. (WEN), and Yum! Brands (YUM) have done fairly well after disposing non-core businesses. So while these companies were disposing brands since 2000, Darden has moved against this trend.
Some investing comment
Article continues below advertisement
Management teams often provide reasons (and sometimes insist on them) that a strategy would work, but it's in investors' interest to always question whether it's the right one. This change could even destroy value, like JC Penney over the past few quarters, and perhaps we are seeing this in Darden's Olive Garden and Red Lobster brands too amid changes in consumer preference and an inflexible management team.
Higher-growth brands to benefit too
This is also expected to benefit Darden's higher-growth brands that can be "expanded regionally." And there are several examples of emerging restaurant concepts or brands that have done really well once they became independent of larger "portfolio-style" restaurant operations. To quote Chipotle Mexican Grill's Steve Ells (chairman and co-CEO), "I've never thought that we reached Chipotle, the brand's full potential during the time with McDonald's."