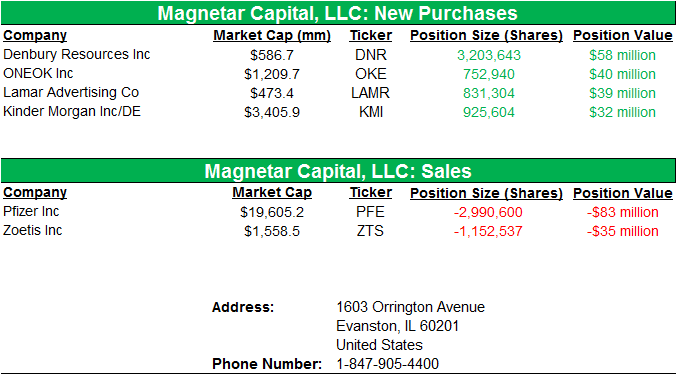 Magnetar Capital starts new positions in DNR, OKE, LAMR, and KMI and sells PFE and ZTS—13F Flash A
Magnetar Capital was founded in 2005 by Alec Litowitz and Ross Laser. It's based in Evanston, Illinois. It seeks to deliver consistent long-term risk-adjusted returns by investing in and across alternative asset classes. It seeks opportunities where it can engineer and scale its processes, and it structures investments to be profitable across the broadest range of market conditions or outcomes. It operates in and across three major investment strategies: global event-driven, fixed income, and energy.
Abbreviated financial summaries and metrics for these securities are included below. Detailed analysis and recommendations require a subscription (more information at the bottom of the article).
In this six-part series, we'll go through some of the main positions Magnetar traded this past quarter.
Magnetar started new positions in Denbury Resources Inc. (DNR), Oneok Inc. (OKE), Lamar Advertising Co. (LAMR), and Kinder Morgan Inc. (KMI) and it sold Pfizer Inc. (PFE) and Zoetis Inc. (ZTS).
Why buy Denbury Resources Inc. (DNR)?
Article continues below advertisement
The company reported 3Q results that beat analyst estimates. Net income (the GAAP measure) was $102 million, or $0.28 per diluted share, on revenues of $674 million. Denbury said a sequential improvement was due to the benefit of higher realized oil prices that more than offset the impact of the modest expected sequential production decline that was partly related to a shutdown of carbon dioxide injections into a portion of Delhi Field due to remediation work. It said its remediation efforts at Delhi Field are progressing well and it anticipates the field's oil production to gradually increase during the fourth quarter of 2013. It expects production to resume its sequential growth in 4Q 2013, driven by anticipated tertiary production growth at Hastings, Heidelberg, Bell Creek, and Oyster Bayou fields, and it currently expects its full-year 2013 tertiary and total production to be slightly above the mid-point of the estimated production ranges.
Denbury Resources saw its stock fall ahead of its 2013 annual analyst day in November, as a pre-event press release indicated that the company has dropped plans to pursue a master limited partnership (MLP). In a release, Phil Rykhoek, Denbury's president and CEO, commented, "Our shift to a growth and income company does not contemplate any changes to our corporate structure or the creation of a master limited partnership, since we are not satisfied that any such changes would create a significant and sustained increase in shareholder value." He added that the company would instead focus on the development timeline for future projects, and by reducing capital spending, provide a return in the form of a dividend to shareholders. The company further said that it expects to pay a regular full-year dividend of $0.25 per share, or $0.0625 per share quarterly, beginning in the first quarter of 2014. It added that the board has approved an increase in the dollar amount of remaining share repurchases authorized under its multi-year share repurchase program to $250 million from $109 million.
Article continues below advertisement
Analysts had upgraded the stock earlier in the year on the company's plans for a shift in strategy by creating an MLP. According to industry experts, Denbury dropped its MLP plans, as it wanted to keep its balance sheet clean and felt an MLP structure would be complex and reduce its cash flow. Analysts expect that with robust results and dividend and share buyback plans, the company could still provide gains going forward.
Magnetar Capital founder and CEO Alec Litowitz and co-founder and president Ross Laser were joined by David Snyderman in 2005, shortly after launching the firm. Prior to founding Magnetar, Litowitz was a principal at Citadel Investment Group, where, during his nine-year tenure, he served as global head of equities and was a member of the management and investment committees. Prior to co-founding Magnetar, Laser was the president and managing partner at Glenwood Capital Investments, where he was a member of the Investment Committee and co-head of the Management Committee. Prior to joining Magnetar, Snyderman spent nearly seven years with Citadel Investment Group, most recently as a senior managing director and head of global credit.
A "magnetar" is a neutron star with an extremely powerful magnetic field. It releases a steady beacon signal and produces bursts of energy, resulting in the brightest objects observed in the universe. When the firm was launched in 2005, the founders selected the name because it represented what they sought to build at Magnetar Capital: a firm that attracts and retains world-class professionals, targets consistent long-term risk-adjusted returns, and fosters an environment that brings energy and passion to investing and building businesses.