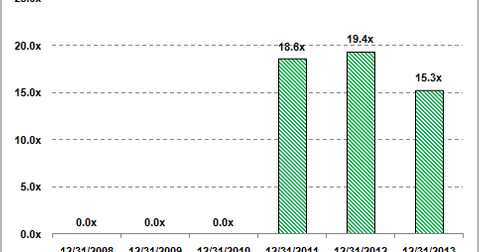 Magnetar Capital starts new positions in DNR, OKE, LAMR, and KMI and sells PFE and ZTS—13F Flash D
By Samantha Nielson

Updated
Magnetar Capital was founded in 2005 by Alec Litowitz and Ross Laser. It's based in Evanston, Illinois. It seeks to deliver consistent long-term risk-adjusted returns by investing in and across alternative asset classes. It seeks opportunities where it can engineer and scale its processes, and it structures investments to be profitable across the broadest range of market conditions or outcomes. It operates in and across three major investment strategies: global event-driven, fixed income, and energy.
Abbreviated financial summaries and metrics for these securities are included below. Detailed analysis and recommendations require a subscription (more information at the bottom of the article).
In this six-part series, we'll go through some of the main positions Magnetar traded this past quarter.
Magnetar started new positions in Denbury Resources Inc. (DNR), Oneok Inc. (OKE), Lamar Advertising Co. (LAMR), and Kinder Morgan Inc. (KMI) and it sold Pfizer Inc. (PFE) and Zoetis Inc. (ZTS).
Why buy Kinder Morgan Inc. (KMI)?
Article continues below advertisement
Kinder Morgan Inc. (KMI) posted a profit of $286 million, or $0.27 a share, up from $200 million, or $0.17 a share, a year earlier. It saw a 27% increase in revenue, to $3.65 billion. It increased its quarterly cash dividend to $0.41 per share ($1.64 annualized), payable on November 15, 2013. KMI said it continues to benefit from strong growth and performance at its MLPs Kinder Morgan Energy Partners (KMP) and El Paso Pipeline Partners (EPB). KMI owns the general partner interests of KMP and EPB, along with limited partner interests in KMP and EPB and shares in Kinder Morgan Management, LLC (KMR).
KMP had a strong third quarter, as its stable and diversified assets continued to grow and produce incremental cash flow. Its five business segments produced $1.402 billion in segment earnings, up 23% from 3Q 2012. Growth was spearheaded by the drop-downs associated with KMI's acquisition of El Paso Corporation last year, contributions from the midstream assets it acquired from the Copano Energy transaction, increased oil production in its CO2 segment, and good results at its Products Pipelines and Terminals businesses. EPB reported 3Q total asset earnings of $286 million, down from $299 million for the same period last year. EPB's earnings declined compared to the third quarter of 2012, primarily due to the impact of two recent rate case settlements approved by the Federal Energy Regulatory Commission (FERC) that have resulted in lower rates on the Southern Natural Gas (SNG) and Wyoming Interstate Company (WIC) pipeline systems. Plus, an unusually cool summer coupled with gas prices that were higher than last year lowered demand from natural gas-fired peaking power plants served by SNG.
Article continues below advertisement
KMI said it has identified approximately $14.4 billion in expansion and joint venture investments across the Kinder Morgan companies, and it's pursuing customer commitments for many more projects. It recently announced it anticipates strong growth in 2014 across the Kinder Morgan family of companies. KMI expects to declare dividends of $1.72 per share for 2014. This represents an approximate 10% increase over KMIs 2013 budget target of $1.57 per share and an approximate 8% increase over the $1.60 per share of dividends it expects to declare for 2013.
Growth at KMI in 2014 is expected to be driven by continued strong performance at KMP and contributions from EPB. The growth at KMI from KMP and EPB will be partially offset by the loss of income from the 2013 and expected 2014 sales (drop-downs) of certain assets to KMP and EPB. The company said, subject to appropriate board approvals, KMI expects to drop down its 50% interest in Ruby Pipeline, its 50% interest in Gulf LNG, and its 47.5% interest in Young Gas Storage to EPB during 2014. The stock went down following the growth projection announcement, as investors expected a higher dividend guidance. However, analysts consider a 5% dividend yield to be still attractive, adding that this makes the stock a buying opportunity.
Article continues below advertisement
Magnetar Capital founder and CEO Alec Litowitz and co-founder and president Ross Laser were joined by David Snyderman in 2005, shortly after launching the firm. Prior to founding Magnetar, Litowitz was a principal at Citadel Investment Group, where, during his nine-year tenure, he served as global head of equities and was a member of the management and investment committees. Prior to co-founding Magnetar, Laser was the president and managing partner at Glenwood Capital Investments, where he was a member of the Investment Committee and co-head of the Management Committee. Prior to joining Magnetar, Snyderman spent nearly seven years with Citadel Investment Group, most recently as a senior managing director and head of global credit.
A "magnetar" is a neutron star with an extremely powerful magnetic field. It releases a steady beacon signal and produces bursts of energy, resulting in the brightest objects observed in the universe. When the firm was launched in 2005, the founders selected the name because it represented what they sought to build at Magnetar Capital: a firm that attracts and retains world-class professionals, targets consistent long-term risk-adjusted returns, and fosters an environment that brings energy and passion to investing and building businesses.