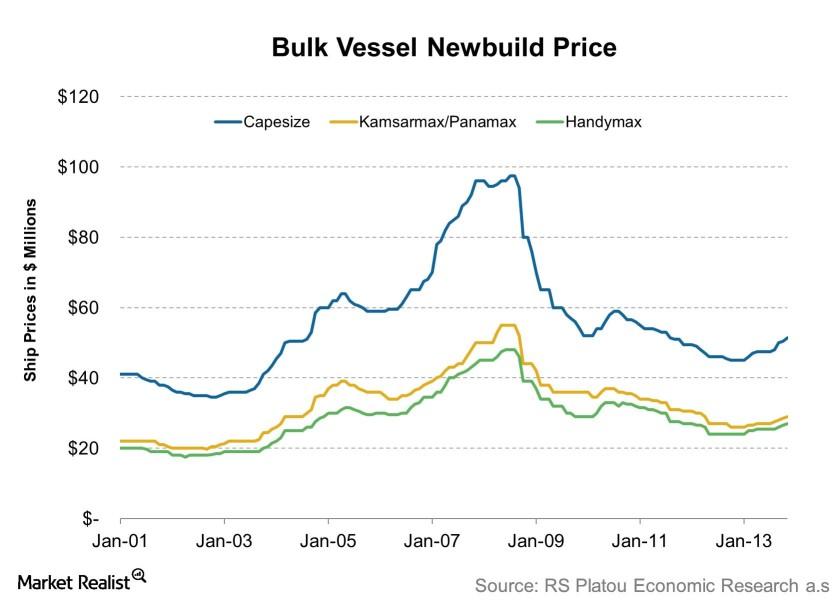 Keep it simple: New build prices are key dry bulk stock drivers
By Xun Yao Chen

Nov. 26 2019, Updated 9:56 p.m. ET
New build prices
Shipping rates are subject to seasonal factors and can be volatile. To overcome that problem, investors should follow new build prices. New build prices are useful indicators that reflect the dry bulk shipping industry's future fundamental outlook. Prices often rise due to higher orders for new ships.

Increased ordering activity is often the result of managements' speculation or expectation that future shipping rates (which can increase or stay the same from the current level) will be profitable enough to generate good returns from these new assets. Conversely, if future rates are expected to be unprofitable, then demand for new ships and ship prices will fall.
Higher newbuild prices
Article continues below advertisement
Vessel prices for Capesize and Panamax/Kamsarmax continued to rise in November, according to RS Platou Economic Research. Prices for Capesize new builds rose from $50.5 million to $51.5 million. Prices for Kamsarmax or Panamax vessels further increased from $28.5 million to $29 million. Higher prices reflect improving fundamentals for the dry bulk shipping industry and a continued placement of new ship orders despite weaker shipping rates for the month.
New shares issuance
Investors might have noticed that several companies have been issuing new shares. These new shares priced below shares before the announcement, and they dilute earnings from current ships. But unlike the new share issuance seen in prior years, the current new shares primarily fund new ships that are expected to be quite profitable when they arrive in a few years. While new build prices have yet to return to 2010 highs, it shouldn't be too long before we see these levels as shipping rates continue to recover and companies' earnings normalize.
Positive trend
As many investors might have noticed, when new build prices turned around at the beginning of the year, several dry bulk shipping companies rallied—some earlier than others. November's increase shows positive momentum. If new build prices continue to rise, investors can expect shipping companies like DryShips Inc. (DRYS), Diana Shipping Inc. (DSX), Safe Bulkers Inc. (SB), and Navios Maritime Holdings Inc. (NM) as well as the Navios Maritime Partners LP (NMM) to benefit and head higher over the medium to long terms.