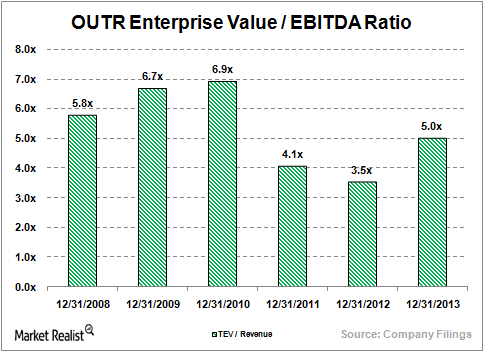 JANA Partners opens new positions in MNK, OUTR, NWSA, and HUN and sells HMA and AET—13F Flash B
By Samantha Nielson

Aug. 18 2020, Updated 5:14 a.m. ET
JANA Partners LLC is a value-oriented investment advisor specializing in event-driven investing exclusively for qualified investors. It was founded in 2001 by Barry Rosenstein. The fund primarily invests in the United States public equity markets and uses activist strategies, a market-neutral strategy, a long/short equity strategy, and a risk arbitrage strategy.
Abbreviated financial summaries and metrics for these securities are included below. Detailed analysis and recommendations require a subscription (more information at the bottom of the article).
In this six-part series, we'll go through some of the main positions JANA Partners traded this past quarter.
JANA Partners started new positions in Mallinckrodt PLC (MNK), Outerwall Inc. (OUTR), News Corp. (NWSA), and Huntsman Corp. (HUN) and it sold Health Mgmt Associates Inc. (HMA) and Aetna Inc. (AET).
Why buy Outerwall Inc. (OUTR)?
Article continues below advertisement
Shares of Outerwall surged in October after JANA Partners reported a 13.5% stake in the company. In a 13-D filing on October 4, JANA stated it intends to have discussions with Outerwall's board and management regarding a review of strategic alternatives, including exploring a strategic transaction, selling or discontinuing certain businesses, or pursuing a sale of the company. Outerwall saw shares declining in September after it lowered its 3Q 2013 guidance for Redbox, stating that rentals and revenue were not up to expectations. It said its promotional strategy for Redbox adversely impacted net revenue per rental more than anticipated and increased the consumer trend toward single-night rentals.
In 3Q 2013, revenue increased 9.3%, to $587.4 million, compared to $537.6 million for 3Q 2012. The increase was driven primarily by Redbox segment revenue of $491.7 million and New Ventures segment revenue of $16.0 million, which included revenue from the ecoATM business. Redbox revenue increased 7.0%, compared to $459.5 million for the third quarter of 2012. This was attributable primarily to Redbox kiosk installations in 2012 that continue to ramp and a 2.1% increase in same-store sales. Coinstar, formerly known as Coin, segment revenue was $79.6 million for the third quarter of 2013, compared to $77.6 million for the same period last year.
Article continues below advertisement
CFO Galen C. Smith said the company remains focused on driving profitable growth and maximizing free cash flow by creating greater operating leverage in its core businesses and reducing costs across the enterprise. During 3Q 2013, the company repurchased approximately $23.6 million of its common stock for a total of $95.0 million of its original $100 million share repurchase target for 2013. The company plans to repurchase an additional $150 million of common stock—$100 million of which it announced in September and expects to execute before the end of the fourth quarter—and the balance occurring early in the first quarter of 2014. It faces competition from Netflix (NFLX), Amazon.com (AMZN), and Hulu.
Outerwall, Inc. is based in Bellevue, Washington. It has a network of movie and game rental kiosks as well as coin cashing machines. Formerly known as Coinstar, it has kiosks in neighborhood grocery stores, drug stores, mass merchants, malls, and other retail locations in the United States, Canada, Puerto Rico, and the United Kingdom, It provides automated retail solutions, including two core self-service kiosk businesses: DVD and video game rentals as well as coin counting. Its Redbox segment enables consumers to rent or purchase movies and video games as well as purchase event tickets. The company's Coinstar segment owns and operates self-service coin counting kiosks, which lets consumers convert their coin to cash, a gift card, or an E-certificate. The company's New Ventures segment focuses on identifying, evaluating, building, and developing innovative self-service concepts in the automated retail space, which includes coffee, refurbished electronics, and photo self-service concepts. The segment includes the recently acquired ecoATM, a San Diego–based company that makes automated kiosks for buying used phones and other electronics.
Before starting JANA Partners, founder Barry Rosenstein was the managing partner at Sagaponack Partners, a private equity fund. Rosenstein is a CPA. He received his MBA from the Wharton School of Business at the University of Pennsylvania in 1984 and his BS from Leigh University in 1981.
JANA, which has approximately $7 billion under management, applies a fundamental value discipline to identify long and short investment opportunities that have one or more specific catalysts to unlock value. In certain cases, JANA can be an instrument for value creation by becoming an actively engaged shareholder.