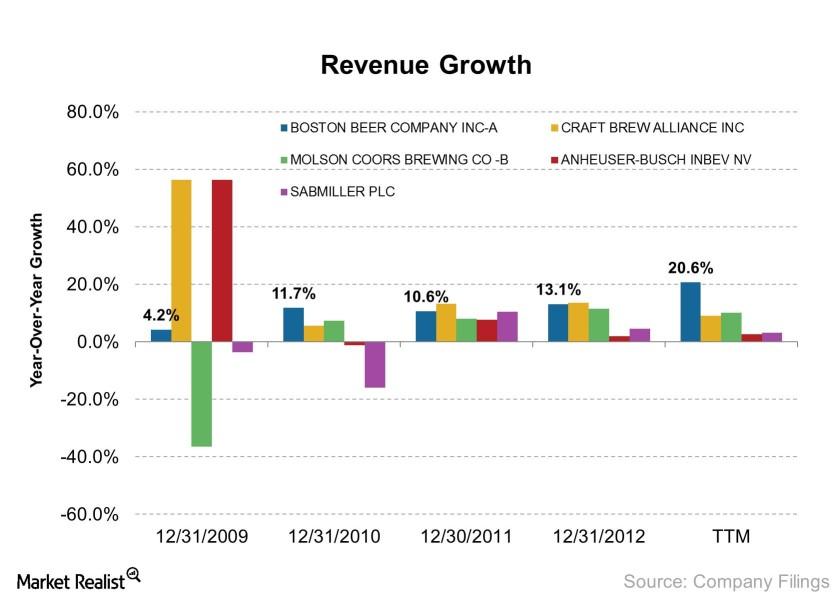 Investor cheat sheet: Boston Beer Co. and peers' ups and downs
By Xun Yao Chen

Jan. 5 2014, Updated 10:43 p.m. ET
Strong performance
As a company that's only positioned in the "better beer" market, Boston Beer has enjoyed higher revenue growth compared to its peers like Anheuser-Busch Inbev, Sabmiller, and Molson Coors Brewing Co. Boston Beer Company's revenue growth has consistently stayed in the double digits since 2010, while other companies have lagged.
Even compared to a smaller craft beer company, Craft Brew Alliance Inc., Boston Beer Company has grown an impressive 20.6% over the last 12 months compared to the same period last year. In contrast, Craft Brew Alliance's revenue only grew 9.01% over the same period. 2012's 13.1% increase in revenue was driven by an increase in shipments of core brands as well as pricing gains. Volume increased 10.6%, due primarily to Angry Orchard, Twisted Tea, and Samuel Adams Seasonals, offset by declines in some other Samuel Adams styles. A price increase added 2.5% to revenue growth. For this year, the company expects depletions growth (the number of product supplied or released) to be between 21% and 24%.
Margin changes
Article continues below advertisement
Boston Beer Company's gross margin came under pressure in 2012 as the company's cost of feed stock like barley, hops, and other ingredients rose, combined with higher activity in customer programs and incentives costs. Operating margin—which is the income after expenses like advertising, promotion, selling, and general and administrative activities have been accounted for—has stayed constant. A slower increase in advertising expenses had largely offset increases in general and administrative expenses that were driven by higher salaries and benefits, and Alchemy & Science startup costs. This was a reversal of 2011, when advertisement expense had outpaced sales growth.
Recent developments
Gross margins continued to fall in 2013 due to increased brewery processing costs, ingredient costs, and product mix effects. Margins fell from 56% during the third quarter of 2012 to 53% in 2013 for the same period. An accounting change of moving $3.3 million of customer program and incentive costs out of the cost of goods sold and reporting it as a reduction in revenue had also negatively affected gross margin. Without the accounting change, Boston Beer Company would have reported 54% in gross margin. The company also recently said its operational and freight costs have increased, as it faced product shortages due to surging demand.
2014 projections
More information on 2014's plan will be provided when the company reports its 2013 full-year results. However, the company is expecting shipment growth of around 15% and price increases per barrel of between 2% and 3% to offset upward pressure on ingredients, packaging, freight, and advertising costs. Margins for next year are expected to come in between 52% and 54%.
Note: Boston Beer Company is part of the PowerShares Dynamic Food & Beverage ETF (PBJ). Molson Coors Brewing Company (TAP) is part of First Trust Consumer Staple Alpha Fund ETF (FXG).