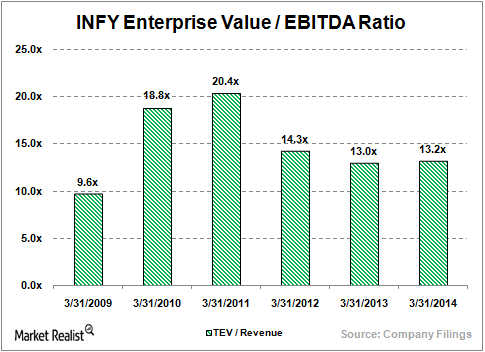 Why did Tudor start position in Infosys?
By Samantha Nielson

Nov. 21 2019, Updated 9:26 p.m. ET
Paul Tudor Jones II in 1982 founded Tudor Investment Corporation, which is today a leading asset management firm headquartered in Greenwich, Connecticut. The Tudor Group, consisting of Tudor Investment Corporation and its affiliates, is involved in active trading, investing and research in assets across fixed income, currencies, equities and commodities asset classes and related derivative and other instruments in the global markets for an international clientele. Tudor has around $13.6 billion in assets under management. The investment strategies of the Tudor Group include, among others, discretionary global macro, quantitative global macro (managed futures), discretionary equity long/short, quantitative equity market neutral and growth equity.
It started positions in Apple Inc (AAPL), Beam Inc (BEAM), Infosys (INFY) and Intercontinental Exchange Inc (ICE). It sold Merck & Co (MRK) and Forest Laboratories Inc (FRX).
Abbreviated financial summaries and metrics for these securities are included below. Detailed analysis and recommendations require a subscription (more information at the bottom of the article).
Why buy Infosys (INFY)?
Tudor owns 0.59% of Infosys in the U.S long portfolio.
Article continues below advertisement
Infosys revenue grew 15% year-over-year to $2,066 million in 2Q 2014. Net profit declined 11.1% to $383 million. It said during the quarter it saw broad-based volume growth, robust client additions, five large deal wins and increased sales momentum of its big data and cloud offerings. The company said it added 68 new clients, which included Fortune 500 companies, taking the total to 873. It won five deals in the business and IT services space where most deals are focused on vendor consolidation, end-to-end application management and application modernization. It continued to win large transformational deals in the consulting and system integration space. It has 15 new wins in this space, eight in products and seven in platforms. On the back of strong top line growth in 2Q, it increased its revenue guidance for fiscal 2014. Revenue is expected to increase in the range of 9% to 10% against the previous guidance of 6% to 10%. The outlook is cautious because 3Q and 4Q are soft quarters for the company due to holidays and furloughs in 3Q. It is also undergoing internal changes focused on cost optimization, increase in productivity
and quality, increased sales effectiveness and creating a new model of global delivery that is still in the early stages.
The company reported strong results and has a robust balance sheet. The initiatives spearheaded by co-founder Narayan Murthy, who was reinstated in June, is expected to drive profit and retain market share. Its competitors include Tata Consultancy Services (TCS), Cognizant Technology Solutions Corp (CTSH), and Accenture PLC (ACN).
Born in Memphis, Tennessee, Jones then went to University of Virginia, earning an undergraduate degree in economics in 1976 as well as a welterweight boxing championship. He then went on to work for Eli Tullis, a successful cotton speculator at the New York Cotton Exchange. One of Jones' earliest and major successes was predicting Black Monday in 1987, tripling his money during the event due to large short positions.
As of March 2013, founder Paul Tudor Jones II,  was estimated to have a net worth of USD 3.6 billion by Forbes Magazine and ranked as the 108th richest American and 376th richest in the world. With this financial success he founded the Robin Hood Foundation, a philanthropic organization mainly backed by hedge fund operators.