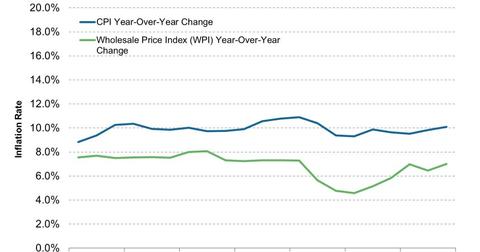 India's 10.09% inflation: Mixed blessing for POT, IPI, AGU, and MOS
By Xun Yao Chen

Updated
What is inflation?
The inflation rate is the rate at which a price is rising, usually on a year-over-year basis. High inflation rates reflect shortages of supply relative to quantity demand. So rising rates indicate higher demand or lower supply. While rising rates often suggest positive economic growth, experts view a substantially high inflation rate as negative because it could lead to hyperinflation (very high, seemingly unstoppable inflation) or a sharp economic slowdown.
India's food inflation rate lowers disposable income
Article continues below advertisement
India's year-over-year change in CPI (consumer price index) stood at 10.09% in October, accelerating from September's 9.84% rate. The WPI (wholesale price index) inflation also picked up speed, rising from 6.46% to 7.00%. The CPI measures the year-over-year change in the price of a basket of goods that a typical household in the country will consume, while the WPI reflects a basket of goods at the wholesale level.
India continues to battle with poor food and supply chain management and high food demand. This is troublesome for the developing market, which relies heavily on private consumption, since high inflation erodes purchasing power and lowers real disposable income. This is critical because food makes up about 50% of the average Indian citizen's expenditure.
Inflationary pressure restricts central bank intervention
While pressure on wholesale price inflation fell at the beginning of the year, it has returned as a lower rupee made import goods more expensive. As India relies on imported raw material to produce goods, higher raw material costs are driving up production costs and wholesale prices. This limits prospects for the central bank to cut interest rates in order to promote expansion.
This is negative for India's economy and rupee, which may negatively affect demand and prices for potash as well as stocks like Potash Corp. (POT), Intrepid Potash Inc. (IPI), Mosaic Co. (MOS), and Agrium Inc. (AGU) as well as the VanEck Vectors Agribusiness ETF (MOO).