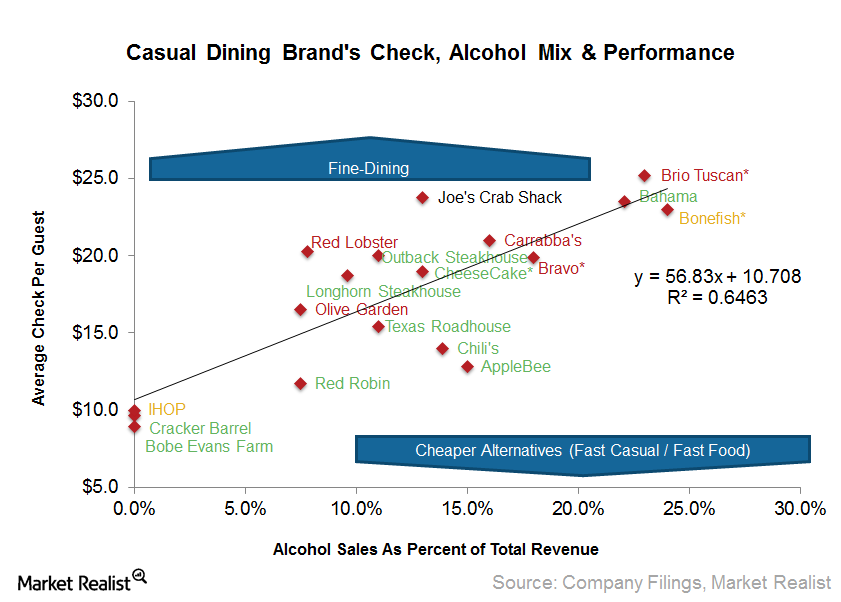 Why hiking minimum wage to $15 will mean faster technology changes
Integrating tablets
A few days before the strike happened, Applebee's, a brand under DineEquity Inc. (DIN), announced a plan that involves putting a tablet on every table in 1,860 restaurants across the United States. About 100,000 E la Carte Presto tablets, powered by Intel, will be installed by the end of 2014.
Of course, this isn't terribly new, and talks or experiments have been going on since as far back as 2011. Chili's, held by Brinker International Inc. (EAT), had also tested the concept out. About three months ago, the restaurant said it will put a tablet on every table by March 2014, according to an article on Forbes.com.
Managing costs are more critical
Article continues below advertisement
As consumers became much more frugal due to the weak economy, the restaurant industry's competitiveness has risen. The chart above shows that overall, companies with lower average checks per guests have been outperforming others that command higher premiums. Green shows companies with solid returns based on share prices or with same-stores sales growth of above 1%. Yellow represents moderate returns or same-store sales of 0% to 1%. Red shows underperformance against the S&P 500 or negative same-store sales growth. This means investing in technology and capital to reduce costs as much as possible, including labor costs, has become critical.
Tablets are not to replace workers
Restaurants say the tablets aren't to replace servers, but to act as an additional revenue stream through higher turnover, advertisement sales, and games. In places where Brinker had tested, the average check per guest rose with tablet use. At the moment, these tablets aren't able to take orders for appetizers and main courses. But as these technological systems become more sophisticated, it may just be a matter of time. That could mean layoffs, but a higher turnover would likely offset this. By how much? We'll just have to see.
If minimum wage is raised, though, you can be sure that the deployment of capital and tablets will increase as capital becomes relatively cheaper than labor. While that's great for workers who end up staying, the rest would be laid off. This trend isn't just happening to casual dining restaurants, of course.
This article is an add-on to previous work starting from Fast food companies pay near minimum wage, yet high wage expense. It will also show up later in this series.