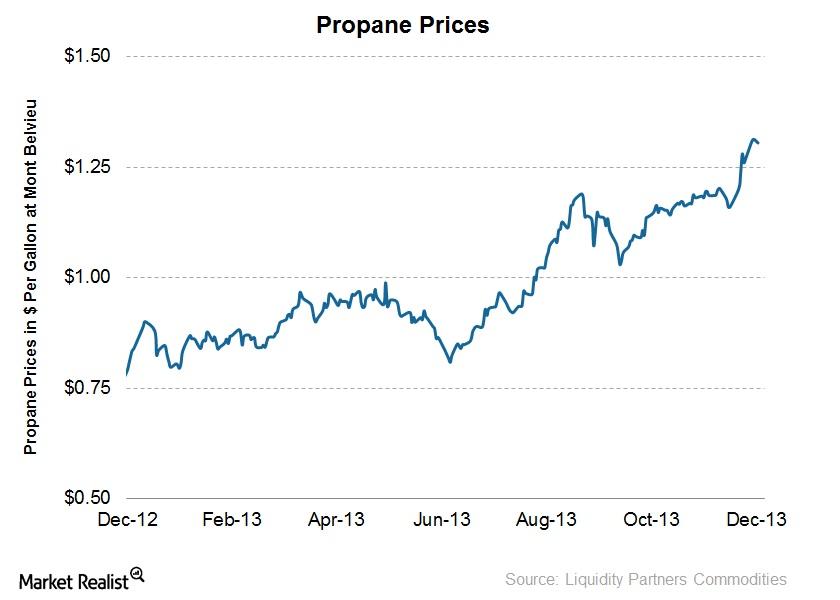 Must-know: Why higher propane prices could hurt some MLPs
By Ingrid Pan

Nov. 20 2020, Updated 12:07 p.m. ET
Propane prices increase
Last week, propane prices (as priced at Mont Belvieu) increased 3%, from $1.27 per gallon to $1.31 per gallon. Also, the week prior, propane prices had increased 9%. Propane prices in the past few months have traded between $1.00 and $1.35 per gallon and have been on an upward trend, with the commodity currently trading at ~$1.30 per gallon. In comparison, last winter, propane was trading between $0.70 and $1.00 per gallon. More expensive wholesale propane is a negative for companies such as AmeriGas (APU), Ferrellgas (FGP), and Suburban Propane (SPH).
One reason for propane prices climbing higher over the past few months has been increased exports. See Why this week's winter storms could help propane companies for more analysis.
However, more expensive propane costs could cause customers to buy less
Article continues below advertisement
All else equal, more expensive propane will likely result in lower propane sales volumes for distributors such as APU, FGP, and SPH. This is because propane distributors generally take a fixed margin from propane sales and pass on price increases to customers. So more expensive propane means a higher sales price for customers, which incentivizes customers to conserve the fuel and buy less. Most customers during the winter are residential and commercial customers who use the fuel for heating. Another factor that affects demand is winter temperatures. See Why some MLPs are benefitting from increased propane exports for more background.
Propane distributors generally take a fixed margin on volumes, so lower volumes result in lower earnings
However, because the margins on propane volumes are more or less fixed (on a per-unit basis), lower volumes mean lower earnings. Take a simplified theoretical example where the cost of propane to a distributor is $1.00 per gallon. If the distributor sells to end at cost plus a margin of $1.00 per gallon, the sales price to the customer is $2.00 per gallon. Let's say the company's customer demand at $2.00 per gallon is 1,000 gallons, so sales are $2,000 ($2.00 per gallon * 1,000 gallons) and gross profit is $1,000 ( [$2.00 – $1.00] per gallon * 1,000 gallons). If the price of propane rises to $1.50 per gallon, and the company sells propane at $2.50 per gallon, demand will likely drop below 1,000 gallons (let's assume 900 gallons). At 900 gallons of sales, revenues are 900 * $2.50 per gallon or $2,250. However, gross profit falls to ($2.50 – $1.50) per gallon * 900 = $900.
Negative catalyst for propane distributors
The past two weeks' significant increase in propane prices was negative for names such as APU, SPH, and FGP, as higher prices may prompt customers to buy less. Note that such names also make up a small proportion of some ETFs, such as the Yorkville High Income MLP ETF (YMLP) and the Global X MLP ETF (MLPA). The increase in propane prices over the past few months is also a negative medium-term catalyst for propane distributors.
For more on propane, please see 8 trends that could affect propane names this winter.