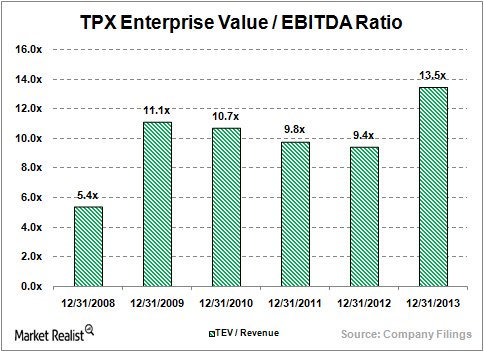 Why Einhorn opened a new position in Tempur Sealy International
By Samantha Nielson

Nov. 20 2020, Updated 1:49 p.m. ET
Greenlight Capital is a hedge fund founded by David Einhorn and former co-President Jeffrey A. Keswin. Greenlight invests primarily in publicly traded North American corporate debt offerings and equities. Founded in 1996, the $5.6 billion Greenlight Capital also manages a fund of funds and a private equity fund through its affiliates, Greenlight Masters and Greenlight Private Equity Partners. It also operates Greenlight Capital Re, a property and casualty reinsurer.
In this seven-part series, we'll go through some of the main positions Greenlight Capital LP traded this past quarter.
Article continues below advertisement
The fund bought new positions in Intrexon Corp. (XON) and Tempur Sealy International (TPX) in 3Q 2013. It added to its positions in WPX Energy Inc. (WPX), Oil States International Inc. (OIS), and Spirit Aerosystems (SPR). It sold its positions in Oaktree Capital Group LLC (OAK) and State Bank Financial Corp. (STBZ).
Abbreviated financial summaries and metrics for these securities are included below. Detailed analysis and recommendations require a subscription (more information at the bottom of the article).
Why buy Tempur Sealy International (TPX)?

Einhorn acquired a small position (0.9%) in Tempur Sealy International Corp in 3Q 2013. Tempur Sealy International posted 111.4% increase in 3Q 2013 net sales to $735.50 million on a year-over-year basis. The net sales increase was due to the inclusion of $389.9 million of the acquired Sealy net sales for the third quarter of 2013. The company reported $0.73 earnings per share for the quarter, above analyst estimates.
Article continues below advertisement
It said its third quarter results were in line with its expectations. The steps taken to improve Tempur North America's performance showed progress and led to a slight sales increase during the quarter. Its Sealy business also showed growth during the quarter. However, Tempur International results were slightly below expectations due to continued weakness in Europe. The integration with Sealy continues to progress well, as cost synergies continue as planned, and it expects to capture significant revenue synergies.
In March, the company, which was known as Tempur-Pedic International Inc., completed its acquisition of Sealy Corporation (ZZ) for a total transaction value of approximately $1.3 billion. It also changed its corporate name to Tempur Sealy International, Inc.
The company's business segments include Tempur North America, Tempur International, and Sealy. Tempur North America net sales increased 0.6%, to $242.4 million in 3Q 2013 from $240.9 million in 3Q 2012, on the back of strong marketing efforts. Tempur International net sales decreased 3.6%, to $103.2 million in 3Q 2013 from $107.0 million in 3Q 2012. Sealy net sales for 3Q 2013 were $389.9 million.
The company said it has accelerated its pace of innovation with products that feature new technology. It's planning several significant and exciting product launches for 2014, including new innovations across its entire brand portfolio. Marketing initiatives have been undertaken and it will also invest in in-store marketing and direct sales to maximize its sales opportunity driven from national brands and retailer advertising. It said its international opportunity is significant, and over time, it expects to realize over $300 million in revenue synergies from its international markets. It also wants to build world-class supply chain efficiencies related to purchasing and deliveries as well as inventory management to drive sales growth for its retail customers.
Article continues below advertisement
The company has a cautious outlook because although it has seen some progress in Tempur North America, demand remains volatile week-to-week, and there's an overall uncertainty in the market. But management is confident in the company's long-term potential. It expects to realize upside from revenue synergies as a result of a broader product offerings, access to more channels, and international expansion.
The mattress industry is seeing a consolidation, and sales are expected to pick up with the improvement in the housing sector. Some of Tempur Sealy's peers facing these changes include Select Comfort Corp. (SCSS), La-Z-Boy Inc. (LZB), and Mattress Firm (MFRM).
Tempur Sealy International is the world's largest bedding provider. It develops, manufactures, and markets mattresses, foundations, pillows, and other products. The company's brand portfolio includes many of the most highly recognized brands in the industry, including Tempur, Tempur-Pedic, Sealy, Sealy Posturepedic, Optimum, and Stearns & Foster. The global headquarters for Tempur Sealy International is in Lexington, Kentucky.
Article continues below advertisement
Greenlight has generated about a 20% annualized return for investors. According to HedgeFundLetters.com, Greenlight Capital is a long/short value-oriented fund. The firm's investment approach is to analyze the economic value of a company and determine the alignment of interest between management and investors. It employs a bottom-up approach, emphasizing fundamental analysis, aiming to achieve high absolute rates of return while minimizing the risk of capital loss.
David Einhorn graduated summa cum laude from Cornell University with a BA in Government from the College of Arts and Sciences in 1991. Einhorn is a major contributor and board member of The Michael J. Fox Foundation. He is also on the board of the Robin Hood Foundation and a contributor to numerous charities in the New York area. He has authored the book Fooling Some of the People All of the Time.