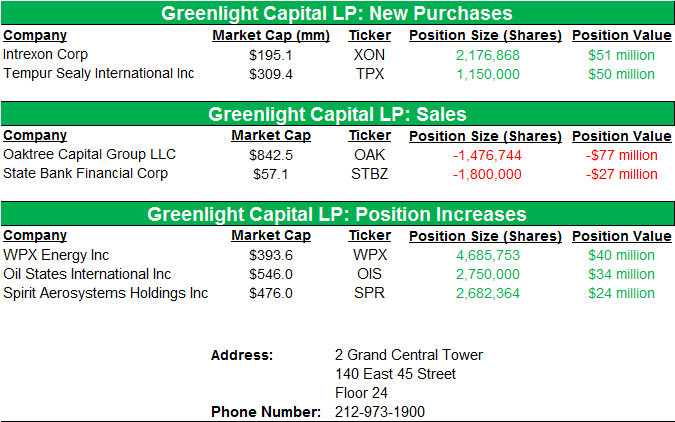 Why Einhorn's hedge fund bought a position in Intrexon Corp.
By Samantha Nielson

Nov. 20 2020, Updated 3:48 p.m. ET
Greenlight Capital is a hedge fund founded by David Einhorn and former co-President Jeffrey A. Keswin. Greenlight invests primarily in publicly traded North American corporate debt offerings and equities. Founded in 1996, the $5.6 billion Greenlight Capital also manages a fund of funds and a private equity fund through its affiliates, Greenlight Masters and Greenlight Private Equity Partners. It also operates Greenlight Capital Re, a property and casualty reinsurer.
In this seven-part series, we'll go through some of the main positions Greenlight Capital LP traded this past quarter.
Article continues below advertisement
The fund bought new positions in Intrexon Corp. (XON) and Tempur Sealy International (TPX) in 3Q 2013. It added to its positions in WPX Energy Inc. (WPX), Oil States International Inc. (OIS), and Spirit Aerosystems (SPR). It sold its positions in Oaktree Capital Group LLC (OAK) and State Bank Financial Corp. (STBZ).
Abbreviated financial summaries and metrics for these securities are included below. Detailed analysis and recommendations require a subscription (more information at the bottom of the article).
Why buy Intrexon Corp. (XON)?
Einhorn acquired a small position (0.9%) in Intrexon Corp. in 3Q 2013. Intrexon Corp.'s revenue was up 110%, to $6.10 million in 3Q 2013 compared to the same quarter last year. It reported $0.15 EPS for the quarter, above analyst estimates. The increase in collaboration revenue resulted primarily from the recognition of deferred revenue for upfront payments received from five collaborations signed by Intrexon between October 1, 2012, and September 30, 2013, as well as one milestone payment received in October 2012. Revenues also increased as a result of research and development services the company performed under these new agreements.
Article continues below advertisement
During the quarter, Intrexon formed a joint venture with Sun Pharmaceutical Industries Ltd. to develop controllable gene-based therapies for the treatment of ocular diseases that cause partial or total blindness in millions of people worldwide. The joint venture will leverage Sun Pharma's global capabilities and experience in developing and manufacturing complex dosage forms and specialty pharmaceuticals for niche therapy areas. Intrexon and Sun Pharma will share in both the financing of, and the revenues from, the joint venture.
Intrexon Corporation is a leader in synthetic biology focused on collaborating with companies in the health, food, energy, and environment sectors to create biologically based products that improve quality of life and the planet's health. Through the company's proprietary UltraVector platform, Intrexon provides its partners with industrial-scale design and development of complex biological systems.
Article continues below advertisement
Greenlight has generated about a 20% annualized return for investors. According to HedgeFundLetters.com, Greenlight Capital is a long/short value-oriented fund. The firm's investment approach is to analyze the economic value of a company and determine the alignment of interest between management and investors. It employs a bottom-up approach, emphasizing fundamental analysis, aiming to achieve high absolute rates of return while minimizing the risk of capital loss.
David Einhorn graduated summa cum laude from Cornell University with a BA in Government from the College of Arts and Sciences in 1991. Einhorn is a major contributor and board member of The Michael J. Fox Foundation. He is also on the board of the Robin Hood Foundation and a contributor to numerous charities in the New York area. He has authored the book Fooling Some of the People All of the Time.