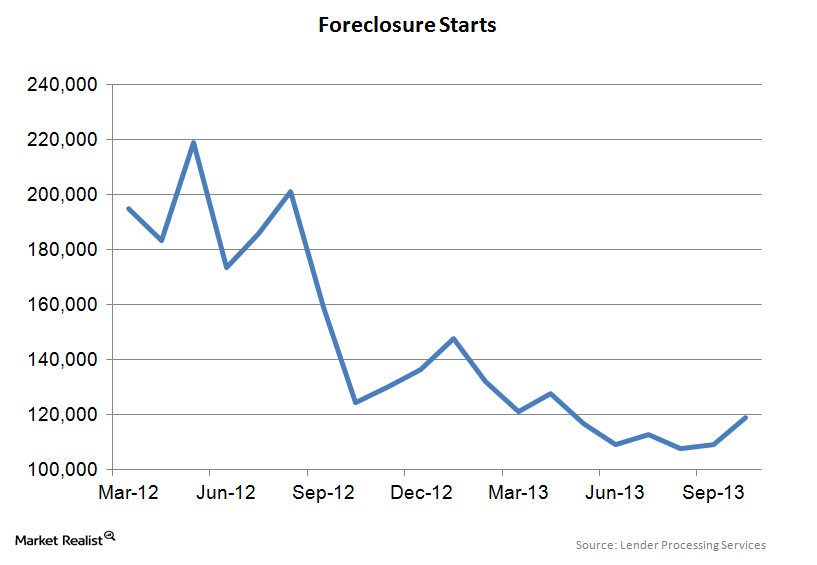 Why foreclosure starts ticked up in October but are still falling
By Brent Nyitray, CFA, MBA

Dec. 4 2020, Updated 10:52 a.m. ET
Foreclosure starts are a leading indicator of future housing supply and pricing
Foreclosure starts are closely watched by investors, realtors, and homebuilders alike because they forecast future housing supply. Foreclosure timelines can vary widely by state, depending on whether a foreclosure needs to be approved by a judge. The large foreclosure pipeline in the judicial states is one reason why prices are still languishing in the Northeast. Homebuyers don't focus solely on existing supply. They also focus on projected supply.
Article continues below advertisement
Increases in foreclosure activity correlate with lower home prices because distressed properties tend to trade at a discount to non-distressed properties. Foreclosure sale prices are typically 26% lower than non-distressed prices. Short sales tend to trade at smaller discounts (estimated to be 15% to 25%). These factors lower comparable sales prices (or comps), which in turn lower appraisals and the value of neighboring properties. Low appraisal values are an issue right now for a lot of borrowers—especially those that are using low down payment FHA and VA loans. If the appraisal comes in lower than the sales price, the borrower must put up a down payment or forgo the sale. So there are many ripple effects from foreclosures.
Foreclosure activity is falling as the government encourages servicers to pursue other options
The Federal Government has taken numerous steps to reduce foreclosures, starting with loan modification programs and also encouraging servicers to pursue other means of dealing with a delinquent borrower. The loan servicer handles the day-to-day management of the loan pool for the ultimate investor. They are responsible for collecting mortgage payments, forwarding the interest and principal to MBS (mortgage-backed securities) holders, and handling delinquent borrowers.
Article continues below advertisement
The most common alternative is the short sale, where the homeowner sells the property for less than the outstanding mortgage and the remaining debt is forgiven. The other type of disposition is called "deed in lieu," where the lender offers the borrower money in exchange for the keys. Foreclosures aren't cheap, and the lender would like to skip the foreclosure process if at all possible.
Foreclosure starts have been in a 110,000-to-150,000 range since fall of last year. In August, they increased 9.1%, to 118,837. This is a 13% decline from a year ago. The states with the highest foreclosure percentages are the judicial states, like Florida, New Jersey, and New York. Non-judicial states have largely worked through their foreclosure pipelines. This accounts for the difference between states when looking at home price appreciation as measured by Case-Shiller or FHFA.
Impact on homebuilders
Increased foreclosure activity affects homebuilders, like KB Home (KBH), Toll Brothers (TOL), Standard Pacific (SPF), PulteGroup (PHM), and Lennar (LEN), by depressing real estate prices and competing with new homes. Lower home prices mean lower average selling prices for builders, appraisal difficulties, and a glut of foreclosures resulting in lower sales. So the overall drop in foreclosure activity over the past year is good news for homebuilders.